Hybrid Chat (Customer-Agent-Bot)
Cisco Unified Contact Center Express (UCCX), Enterprise (UCCE or PCCE)
Unify your customer chats, Bots, Callcenter and CRM by conferencing:
Customers (FB Messenger, Mobile or WebChat, SMS, Amazon Alexa, Skype, Whatsapp, Telegram,..)
Agents within Finesse or your CRM (Oracle Siebel, Microsoft Dynamics CRM, Oracle Service Cloud, SAP,..)
..and bots (IBM Watson, Microsoft LUIS, Google Dialogflow, rasa.ai,..)
Your bot is  can be supervised or assisted by a callcenter agent whenever it gets stuck:
Handoff a chat from a Bot to a contact center agent.
Conference each customer chat to a bot and an agent. The bot will suggest answers to an agent - who in turn is now chatting with multiple clients ("hybrid chat") in parallel as the bot offloads his workload. The bot responds automatically after a timeout that depends on the Bot NLU's confidence score.
The solution can also work without bots, simply connecting multiple chat channels. It can also integrate with multiple bots or dialogue engines, so the Chatframework or CC agent can choose the best answer from several bots.
Escalate a WWW-chat session to a video/ application share session between the customer and the agent using for example Cisco Remote Expert Mobile.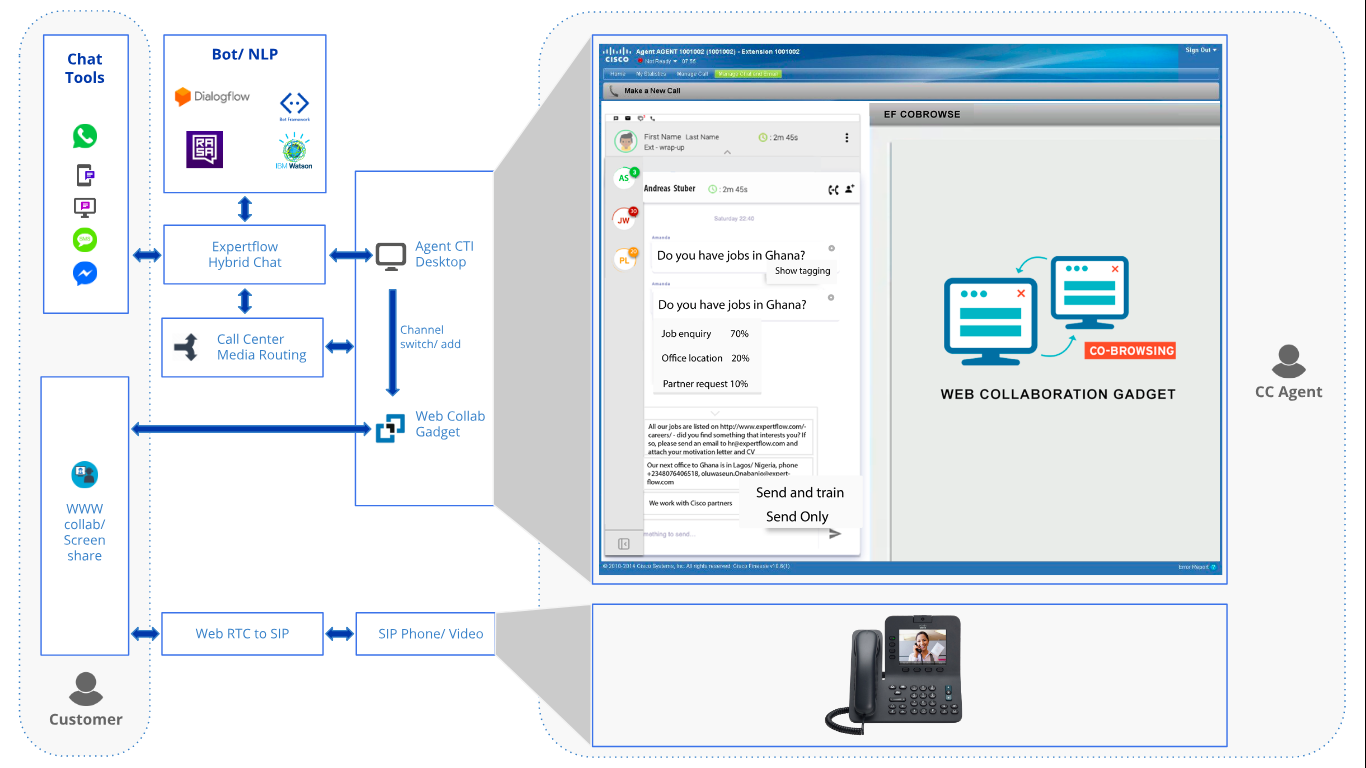 Handoff & Media Blending
Most bots reach to a point where they can't answer the customer's request so therefore a handoff strategy is essential when deploying a bot, but a continuous conference is even better. EF Hybridchat provides both
Media blending means that agents can serve alternatively voice calls or chat/ emails, depending on the volume of incoming requests. If there are many Voice Calls, you could, for example, postpone answering temporarily to Emails or Chats, or the Chatbot could inform the user that he can't answer this particular question, but that your company would be happy to call him back once an agent becomes available. The callback request is then forwarded to the Expertflow Campaign Manager and to the Cisco Dialer.
The bot will monitor the entire chat between customer and agent and continuously suggest answers for the agent to select from.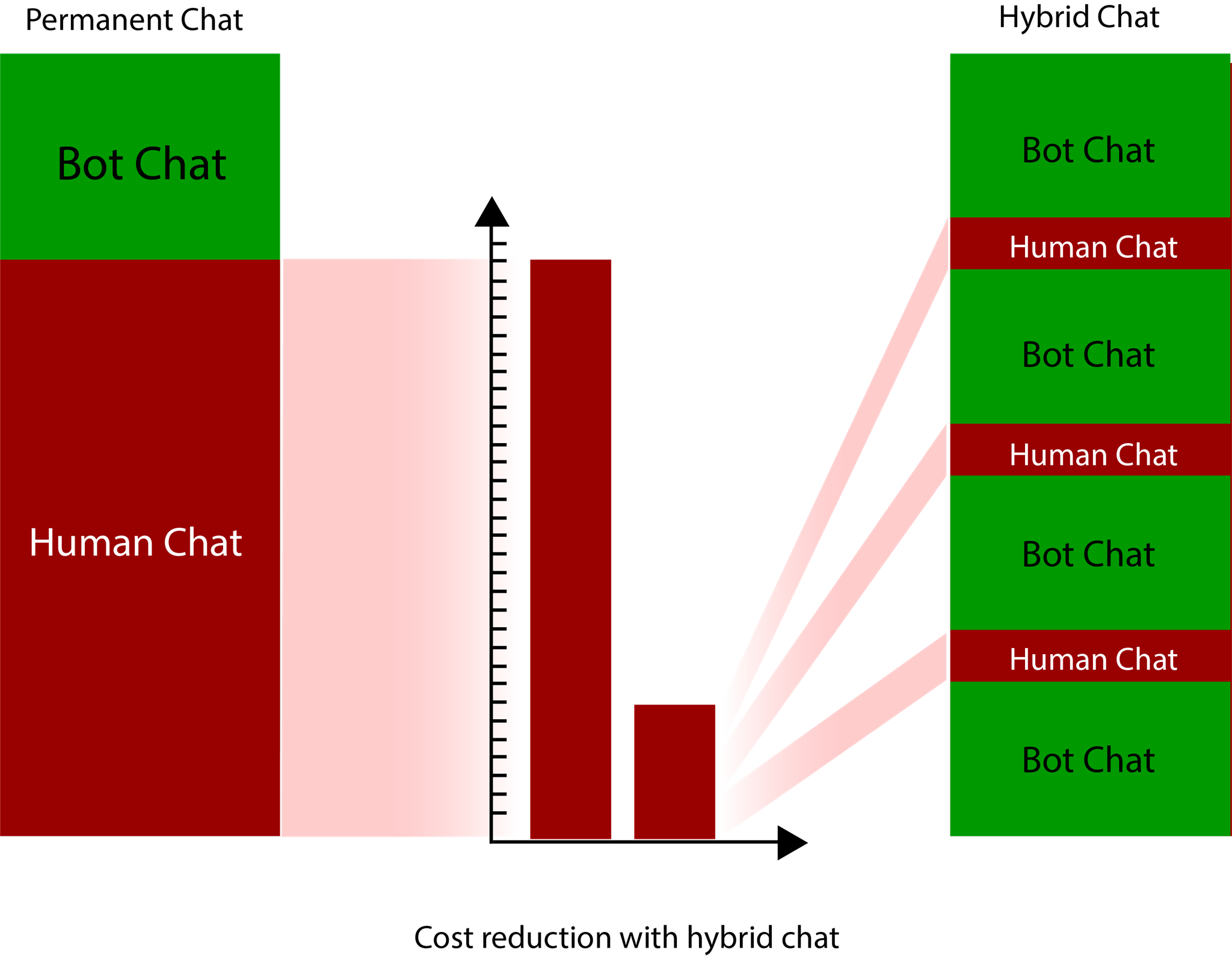 Hybrid Chat
Instead of a basic handoff from a bot to a human agent, where most of the conversation will continue to be handled by an agent, Hybrid chat engages and uses the bot during the entire conversation thereby reducing the workload to call center agents.
An agent can serve multiple chats in parallel – this can also be based on anticipated conversation duration per chat.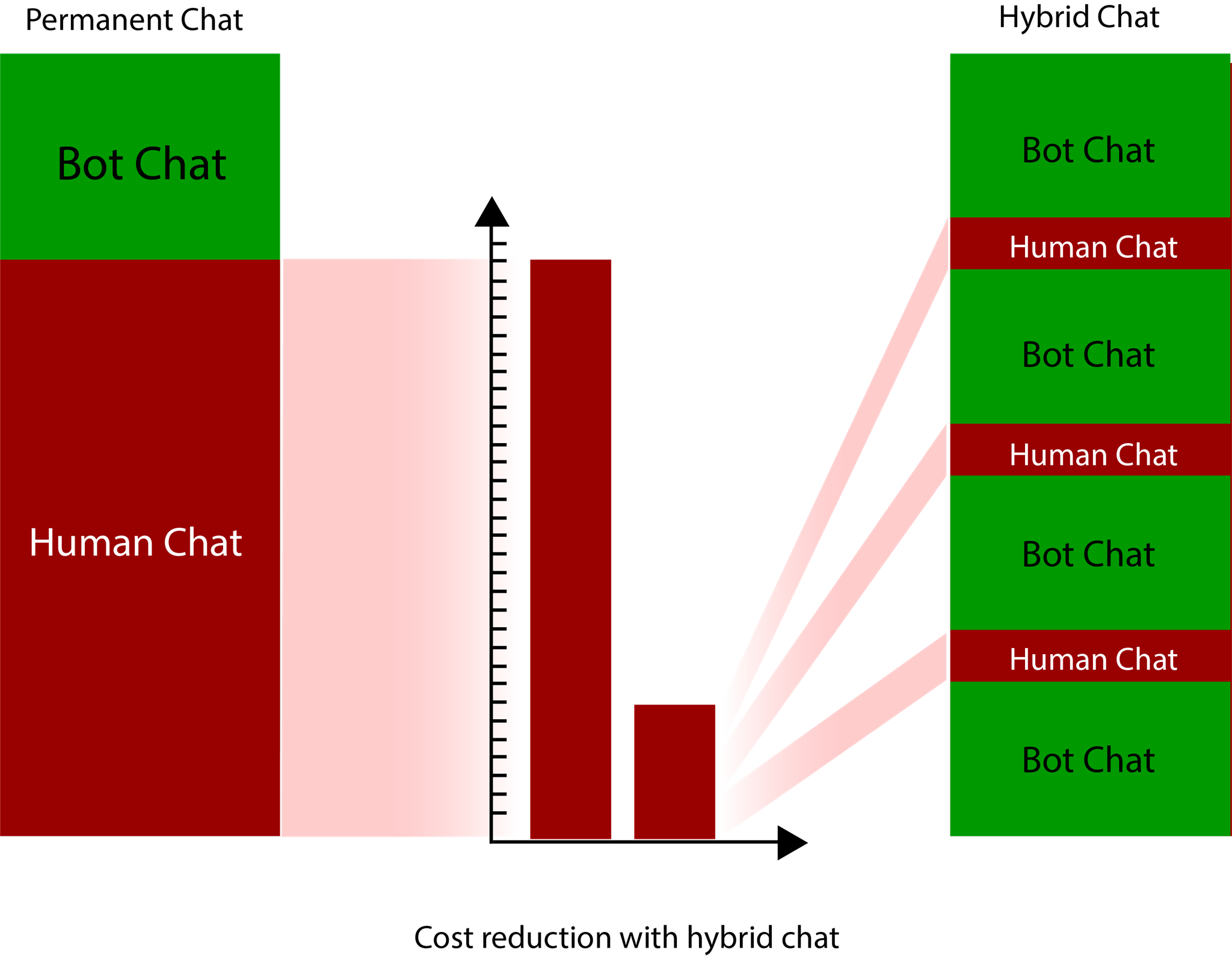 The chat tab of each customer is color-coded, indicating the bot's confidence score. This score also determines the hold time for a timer until the bot's primary answer will be sent, unless the agent manually overwrites the bot's suggested answer before the timeout.
Agent Tagging
The agent can tag intents and entities in the message and can also select response amongst the answers that the bot suggests (highest-scoring answers), or draft a new response to the customer.
From the bot's perspective, everything proceeds as if it was a normal dialogue. Tagged Messages and validated conversations (by the agent) can be used as training data to the bot, in order to improve further recognition rates (NLU) and answers (Dialogue Engine). A differentiator of the EF Hybridchat solution is also that it directly enables (senior) agents to not only use hybrid chat, but to also tag messages on-the-fly, so that the same messages don't need to be reviewed twice (once by the agent, once by a person doing tagging).
If you use a CRM connector, you can embed the Chat gadget within your CRM, as shown here with Microsoft Dynamics CRM: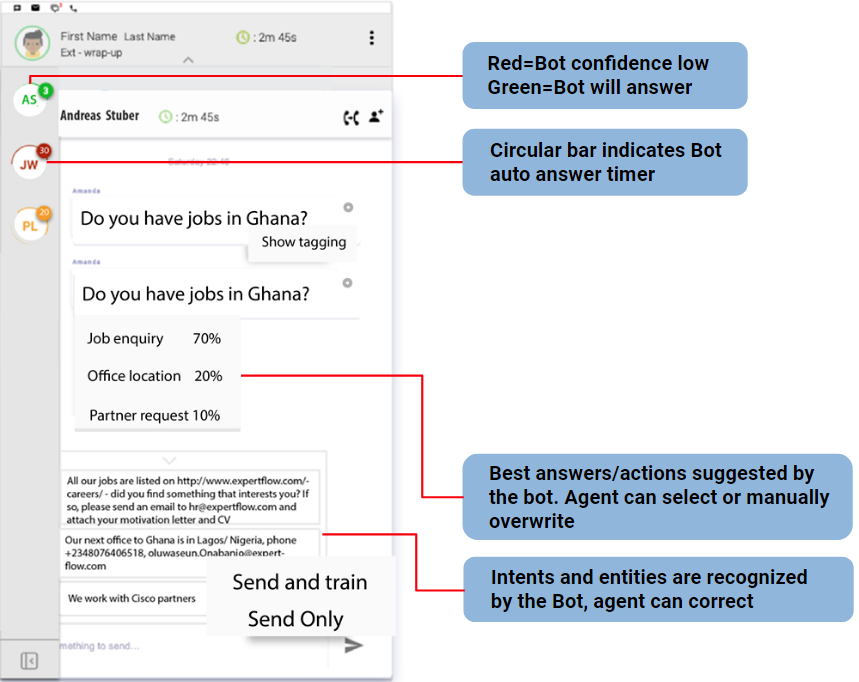 Subscription to the bot framework of your choice

In case of Cisco UCCX, a license for Media-Routing from Expertflow

If you would like a customer profile to pops up on the agent side when he takes over a chat, a CRM connector from Expertflow

Expertflow Professional Services for integrations to chat channels and to configure the Bot/ AI solutions