WebRTC – Voice, Video, Screenshare
Standalone  / Cisco Unified Contact Center Express (UCCX), Enterprise (UCCE or PCCE)
Expertflow's WebRTC implementation allows agents and customers to securely share voice, video and screen content. It doesn't require the customer or your agents to install any software – all that is required is a WebRTC-compatible browser.
In a Cisco UCCX/ UCCE/ PCCE enviornment, we provide a trade-in to current users of CafeX or REM that wish an alternative/ replacement of Cisco Remote Expert Mobile / Expert Assist Web Agent that went End of Live in 2019 
A WebRTC session is typically initiated as part of a chat session  or a voice call. Agents use a Finesse Gadget to initiate a session.
Customers can be identified automatically using a cookie/ token on the website.
WebRTC is only a secure end-to-end communication protocol between two endpoints. Therefore we make this technology available in to versions: WebRTC-to-WebRTC, and as a WebRTC-to-SIP gateway.
1/ WebRTC-WebRTC mode
In a WebRTC-to-WebRTC mode, both the customer and the agent are using a Webbrowser to host their voice, video, screenshare experience: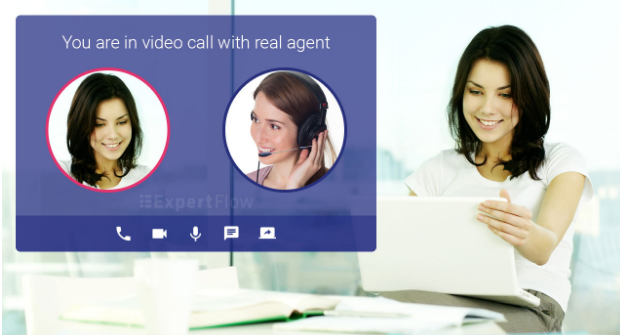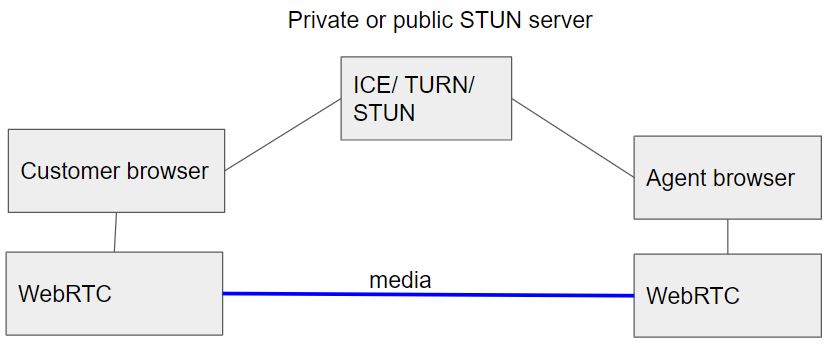 2/ WebRTC-SIP mode
In a WebRTC-to-SIP mode, the customer is using WebRTC as before. On the agent side, voice and video is transcoded to SIP and forwarded to the agent's Voice/ Videophone. The screensharing element is kept in the agent's browser. In this case, the solution includes a switch that performs transcoding multiplexing and encryption.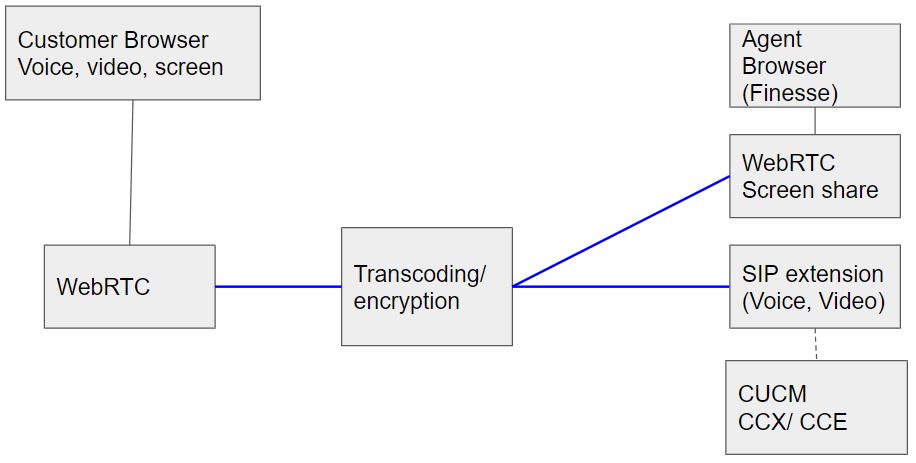 Available features:
Browser or SIP phone based voice and video
Browser based screen-sharing
Features with additional licenses
Hybrid Chat
file sharing
recording
WebRTC doesn't allow for
mouse or keyboard control
screen annotation, field masking, pointer
The customer identifies himself to the browser to the client's website. This broswer in turn is associated to a customer profile in CIM using a cookie that will be stored in the customer's browser. The customer identity is transmitted through a tag manager data layer  on the website.
Web and Browser events Events
DOM Sharing/ Co-browsing
Screen sharing
WebRTC
Vendors
Expertflow
Surfly, Acquire, unblu
Jabber Guest,Cisco Webex, Zoom
Expertflow
Sharing what

pages visited and actions taken by customer on a website.

Company webpages only.

Screenshare-like experience, location of the mouse
Draw something to the customer from the agent.
Company webpages only.

entire screen or browser.

control of mouse and keyboard

content of a browser or an entire screen
Field Masking
n/a
possible
not possible
not possible
Annotation
n/a
possible
possible
not possible
Agent sees
text notifications "Customer clicked on button", "Customer navigated to www.expertflow.com."
Web events. Selective customer screen replication (masking, mouse, annotation)
customer screen pixel-by-pixel, plus overlay (laser pointer, annotation,...)
customer screen pixel-by-pixel (plus voice and video)
Technology
Tag Management (page views, clicks, form entries, selected DOM events..)
DOM events on a webpage
entire screen
entire screen (WebRTC)
Required permissions
Usually accept a cookie
Usually accept a cookie

Download and install a plugin, allow access to screen and mouse/ keyboard controls

WebRTC-compatible browser, usually allow cookies. Allow access to screen.
Bandwidth
very low - selected events only, from Webserver to agent
higher - all web events, from Webserver to agent
High - every pixel from customer to agent
High - every pixel from customer to agent
Technical and release notes
This solution includes a ICE (Interactive Connectivity Establishment) server that can be located on the client's premises or using a public server for network address translation (ICE, STUN, TURN).
Agents can use a normal Cisco SIP phone (such as Jabber), or Expertflow's WebRTC client.