Social Media / Facebook Pages
Standalone  / Cisco Unified Contact Center Express (UCCX), Enterprise (UCCE or PCCE), Freeswitch, FusionPBX
Expertflow Socialmedia for Facebook Pages is a channel adaption of Expertflow Hybridchat. The agent user interface is the same.
Companies can monitor social media comments on their owned assets, such as blogs published on Company Facebook pages.
Documentation
Show Pricing
Forum / FAQs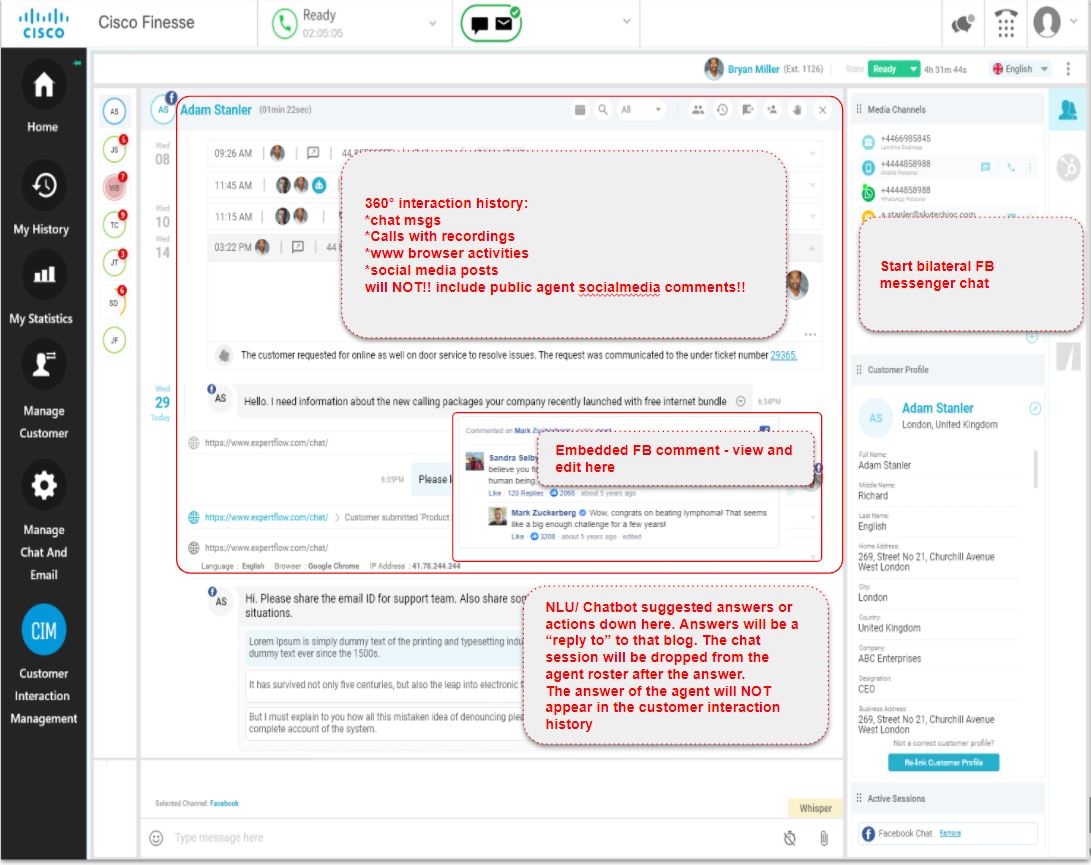 Measuring customer sentiments and topics with forms
Agents can now reply as a FB comment as usual in the comment field in HC. These comments will be attached as a reply to the customer's original comment to the Facebook Page 
Answers by the agent to that comment/ post will not be stored in the customer interaction history, as these are public.  CIM will only store the information that the client posted. It will however do so by maintaining a metadata link to the relevant FB comment, so it can be viewed in-context.
Agents can also choose to reply with a private bilateral message using Faceook Messenger. These private messages will be stored in the interaction history.
In order to measure and report on captured parameters over time, Expertflow Forms is required. These parameters can include parameters from third-party NLU tools, such as 
Expertflow Forms will merge the following existing Expertflow products and is scheduled for April 2020:
Pre-chat forms

QA scores by supervisors
Expertflow Forms allows structured storage of metadata on a customer's journey. This information can be captured from:
chat content such as 3d party NLU, 

voice using DTMF or 3d party speech recognition

web forms/  tags

agent or supervisor entered during or after a conversation
Structured storage of forms will allow to determine things such as how:
a parameter evolves over time for a customer or for a customer segment

topic clusters evolve over time.
Forms, primarily, are a data storage. Any graphical presentation or visualization will require a third party reporting tool.
Timeline
This project is currently under development. It has been deployed as a bespoken project in Switzerland for CourageCivil for a federal election that they won in September 2020. It will go life with another client in the above form in April 2020. Public General Availability with QA and documentation as described here is planned for Q2/2021.
Subscription to the bot framework of your choice, if you would like to have Hybrid chat

If you would like a customer profile to pops up on the agent side when he takes over a chat, a CRM connector from Expertflow

Docker Container with MongoDB

Expertflow Professional Services for integrations to chat channels and to configure the Bot/ AI solutions