Dashboards & Wallboards
Cisco Unified Contact Center Express (UCCX), Enterprise (UCCE or PCCE)
Build real time and historical wallboard or dashboards for your callcenter with a plug n play interface
Administration can customize contact center wallboard and supervisor dashboards by assembling pre-built, reporting gadgets on the Wallboard canvas that show the historical and real-time statistics of the call center in the  required colors and sizes.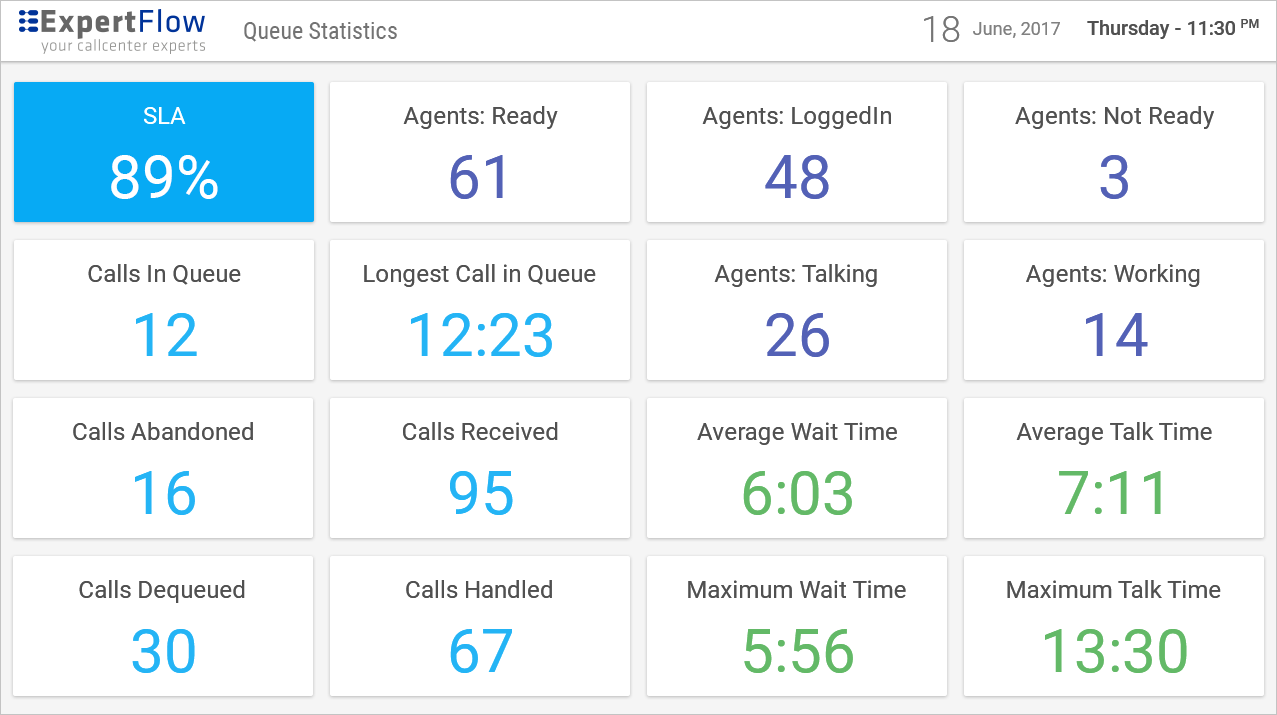 Real-time Queue report gadgets
Shows real-time information on a particular queue or on all queues in the form of cards. Gadgets are available for agent or call stati (calls handled, abandoned, offered). Gadgets also show averages on talk time, speed of answer, handle time, queue SLA and maxima such as max wait or talk time.
Define location and size for each gadget.
Information is drawn by subscribing to asynchronous CUIC Webapp XMPP messages, which might have a delay of 10 seconds and are official. On request, we have the possibility to subscribe directly to real-time Apache MQ JMS messages over JSON which have no delay. JMS is not an official API and might be retired by Cisco at any time.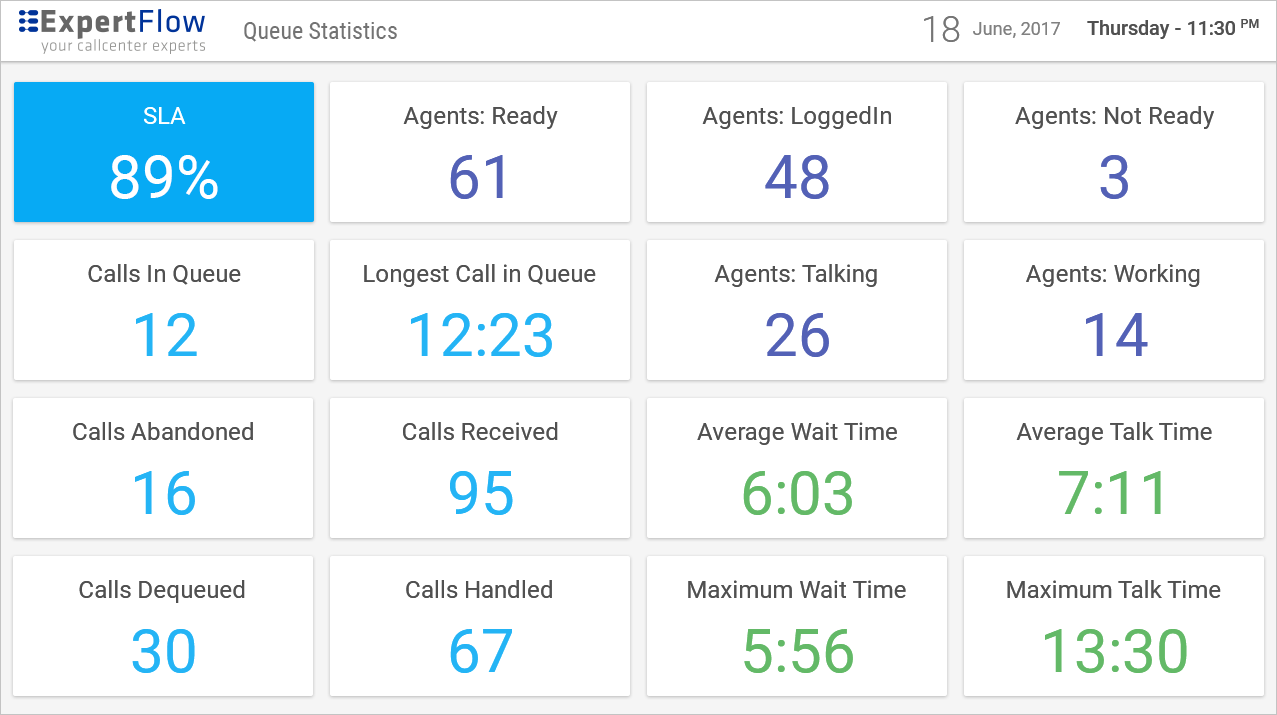 Agent real-time report gadgets
Displays agent statistics in one card per agent. Includes avg answer time and talk time for an agent along with the agent picture, name, and current state. 
The gadget's color bar also highlights an agent's real-time adherence to a WFM (workforce management) schedule.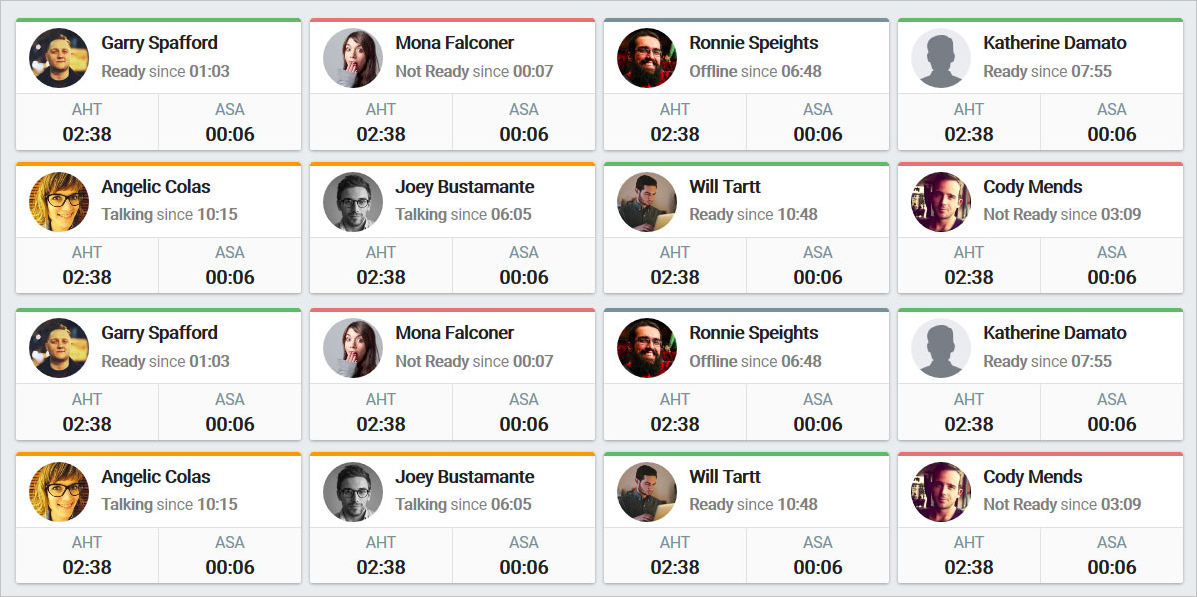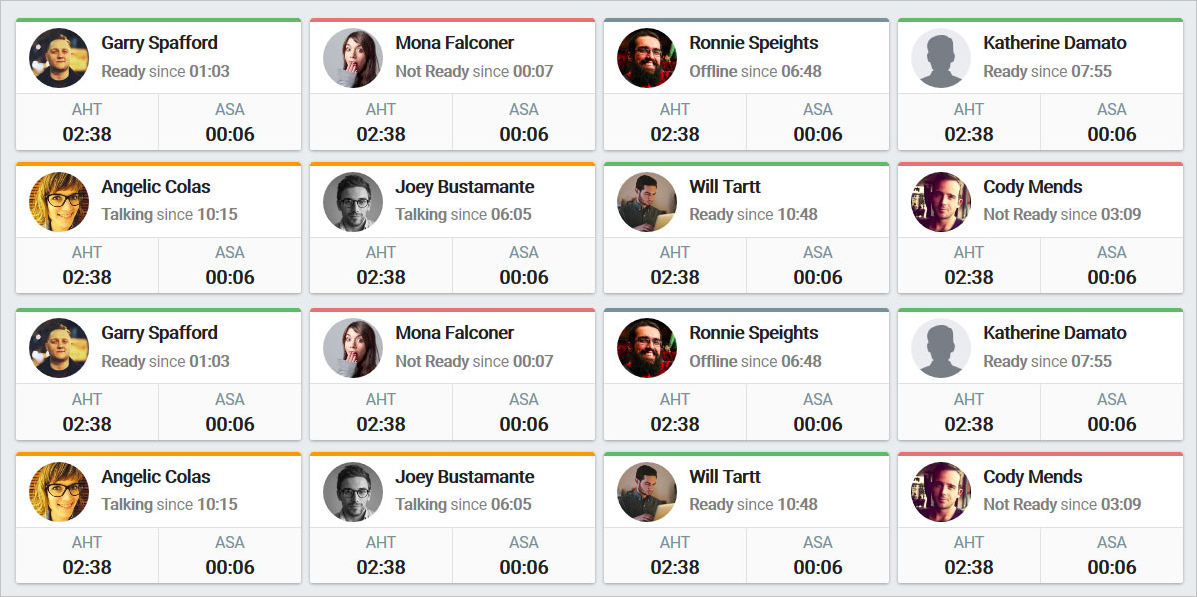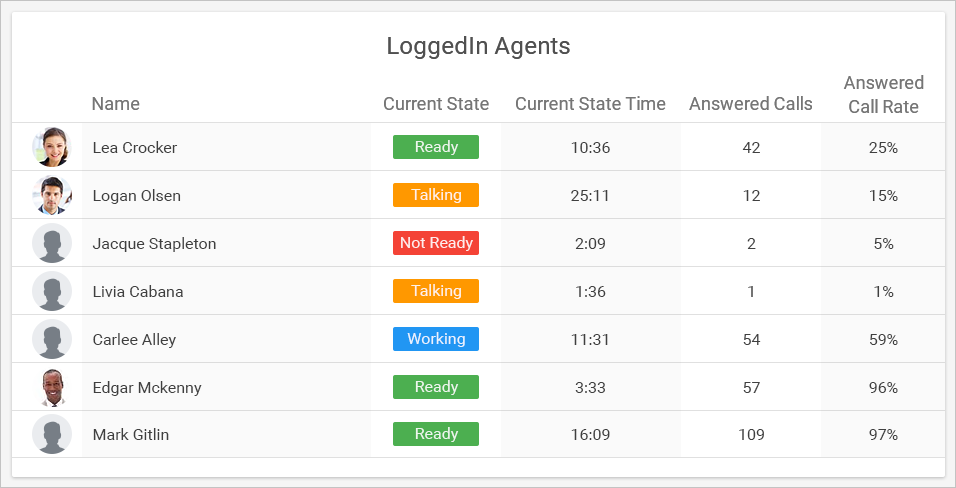 Team - Tabular View
Team information in a tabular view showing agent profile (name, photo), state, time in state and stas such as the number of answered calls, call answer rate in %.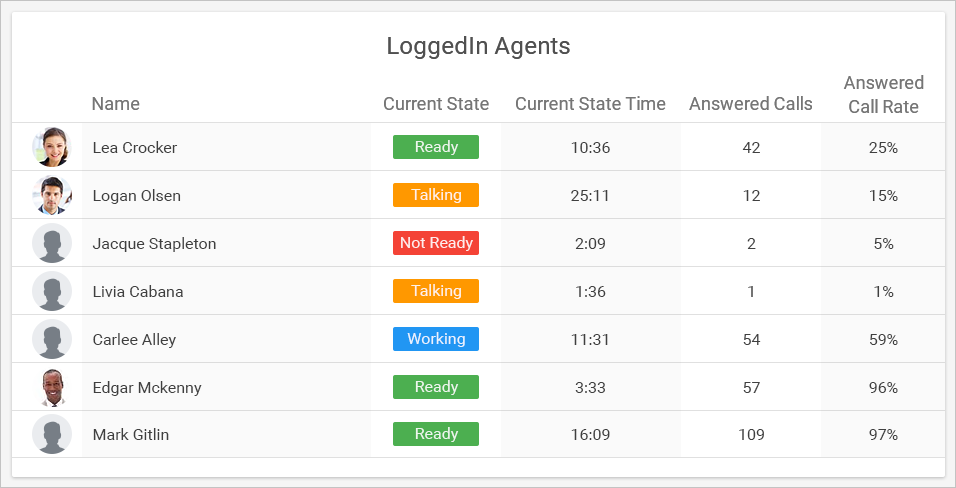 Agent States Summary - Donut View
A view on team agent states, with a percentage of agents Ready, Talking, Working, Not ready/ On break.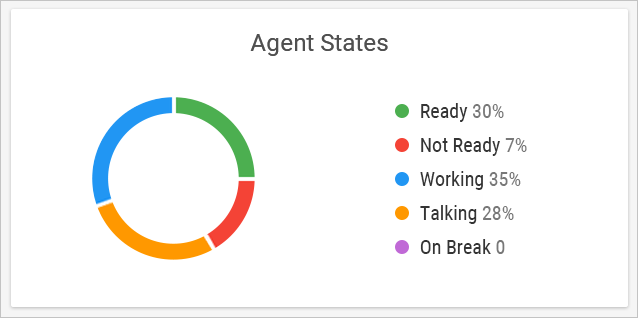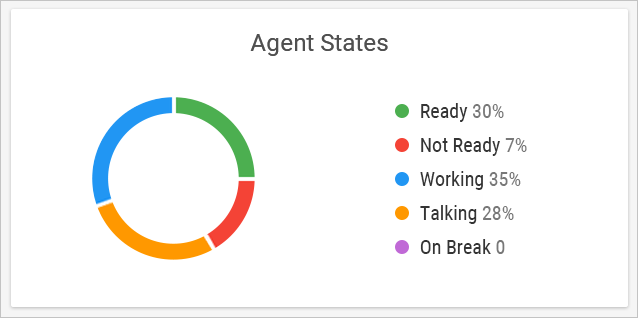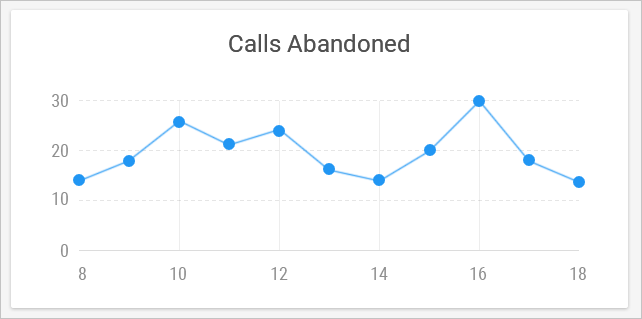 Calls Abandoned - Daily
A graph (or bar chart) to showing how many calls get abandoned throughout the day for a certain queue or team.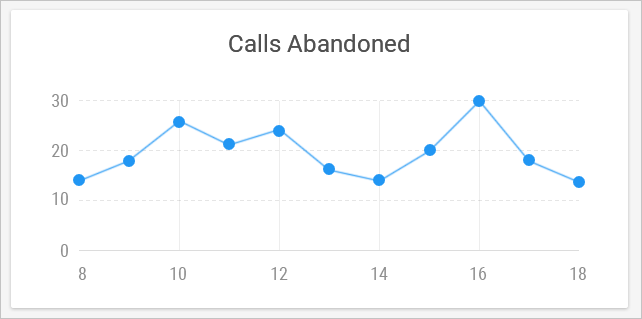 Calls Answered - Daily
A bar chart (or line) showing answered calls in each hours of the day for a certain queue or team.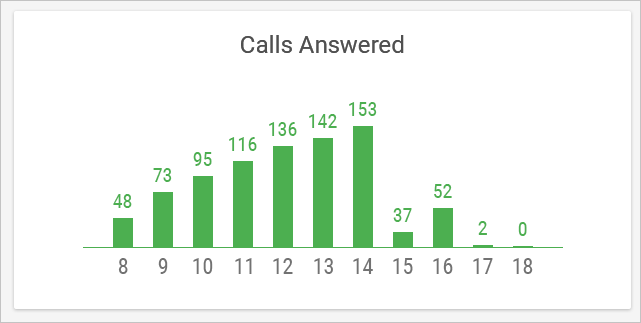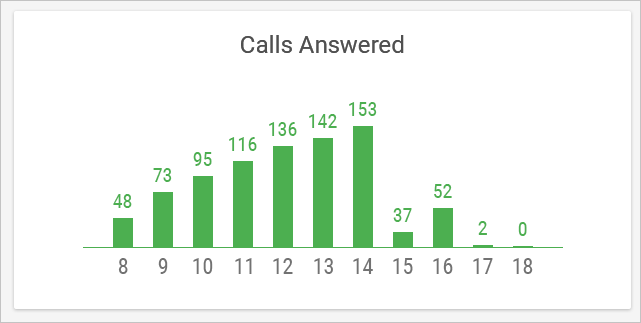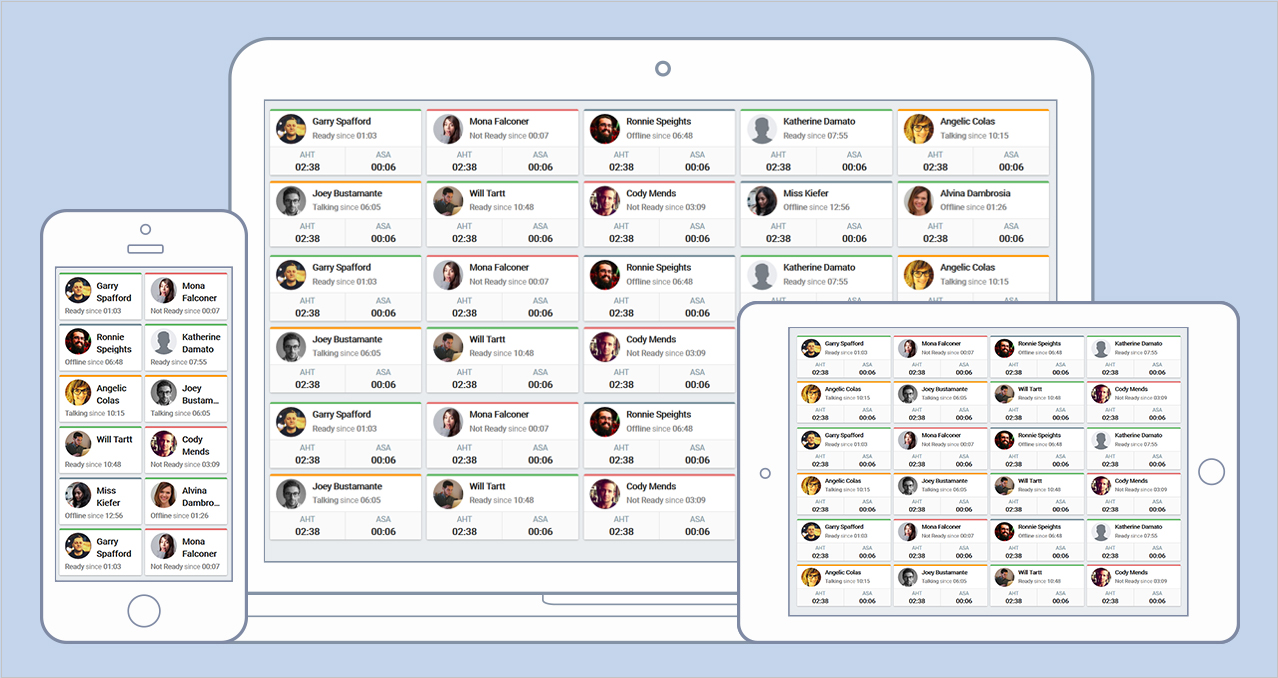 Display on Desktop, Mobile, Tablet, Finesse
Report gadgets can be displayed in a variety of forms:
* As Finesse Gadgets
* On LCD Monitors over a Raspberry Pi or other stick computer over WLAN/ Ethernet
* Web-based client application with a support on Windows platform. Supported browsers are Google Chrome, FireFox, IE10+.
* Roadmap: Native Android/iOS apps
The size of the gadgets is automatically adjusted to the available screen size by using the AngularJS toolset.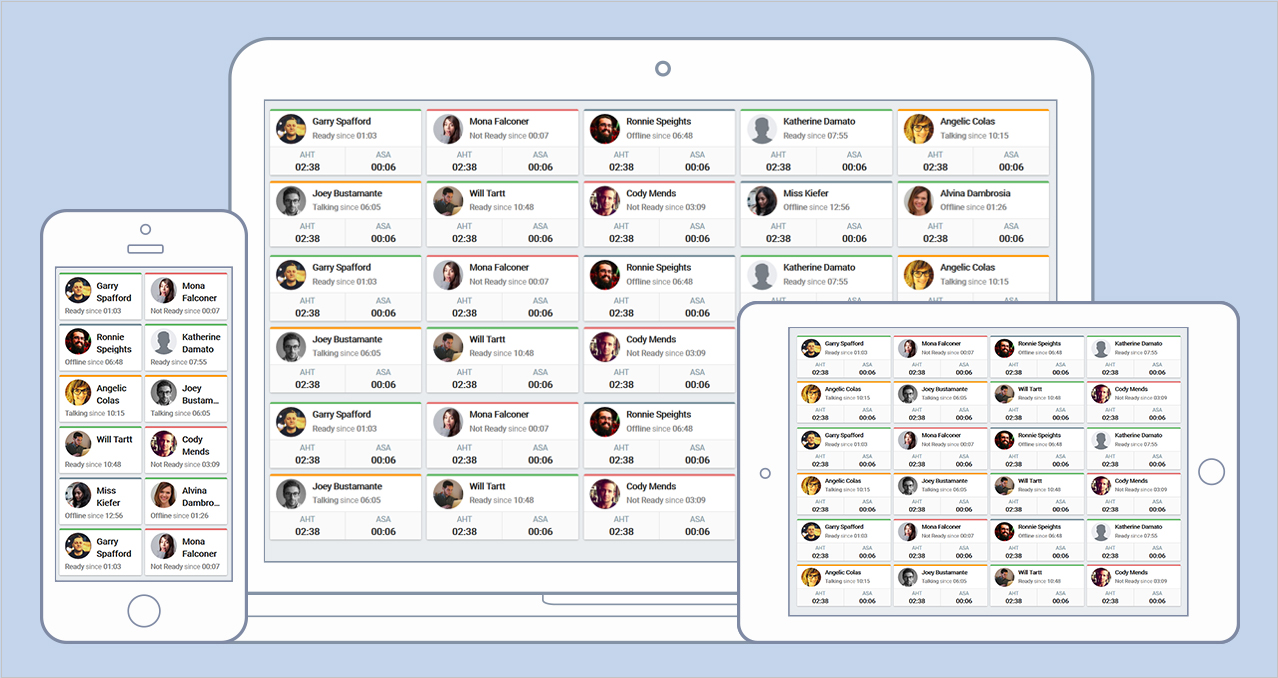 Alerts/ Notifications
For each gadget, set thresholds  for queue SLA, calls abandoned, longest call in a queue, # of Not-ready agents. 
Get audible and visual alerts (color change) on reaching thresholds.
Gadget Preferences
Add/remove parameters or cards to customize multiple different views/ wallboards/ dashboards. Apply filters to teams/queues.
Note: Wallboard application can co-reside with the other existing EF modules as well.
Hardware Requirements
| | |
| --- | --- |
| vCPU | 2 cores |
| vRAM | 8 GB |
| vDisk | 100 GB |
Software Requirements
| | |
| --- | --- |
| Operating System | Cent OS7 |
| Docker CE | Docker CE 18+ and docker-compose |
| Browser | Mozilla Firefox (55.0) |
All statistics are available only for voice calls. Gadgets with statistics for non-voice media are on the roadmap.
Cisco Unified Contact Center Enterprise (UCCE, PCCE)
Cisco Unified Contact Center Express (UCCX)
Following are the prereqs to display wallboard views in the production environment.
An existing PC with preinstalled OS, Monitor or LCD for wallboard display
A Smart LCD with an embedded browser to open the wallboard view
A raspberry pi device with OS installed with an LCD for display. (https://www.raspberrypi.org/products/raspberry-pi-3-model-b/ )
Also make sure that the network connectivity with the wallboard server is up to the mark, to display the wallboard views without any interruption.