White-labeled Cloud Contactcenter
An opensource Freeswitch-based white-labeled SaaS cloud callcenter for partners.
For clients of partners: allows sales and support reps to work from any location, serving customers on phone or chat. No need for infrastructure such as servers or hard phones. Use a contact center software on a monthly pay-per-use base.
Documentation
Show Pricing
Forum / FAQs
Real-time customer service
Improve your customer experience (CX) by activating
ACD (automated call distribution) with Skill Based Routing
IVR with optional ASR and TTS
Voice recording
Hybrid Chat over any chat channel (SMS, FB Messenger, Whatsapp,..) and any Chatbot (Dialogflow, IBM Watson, Microsoft Botframework,..) for ominchannel
SSO and LDAP integration
Secure cloud across EMEA/ APAC
We have a strong history configuring callcentres in Africa, the Middle East and South Asia. While we use cloud services from major providers in the US, UK, Frankfurt, Mumbai, Singapore and Australia, we also have local POP's and numbers with partners in Morocco, Egypt, Pakistan, India, Kenya, Nigeria and South Africa. Contrary to other cloud providers, this means that your clients won't experience a round-trip delay to servers in the UK or the US. Should international fibers to Europe or the US be impacted, the local POP's will continue to operate without any impact to your customer service. With the cloud version, there is no need to install servers or purchase phone sets – all you need is a web browser.
We offer a managed hybrid solution, where calls and sensitive data (calls, recordings) remain on your premises or in your country, or on your premises (yellow servers below).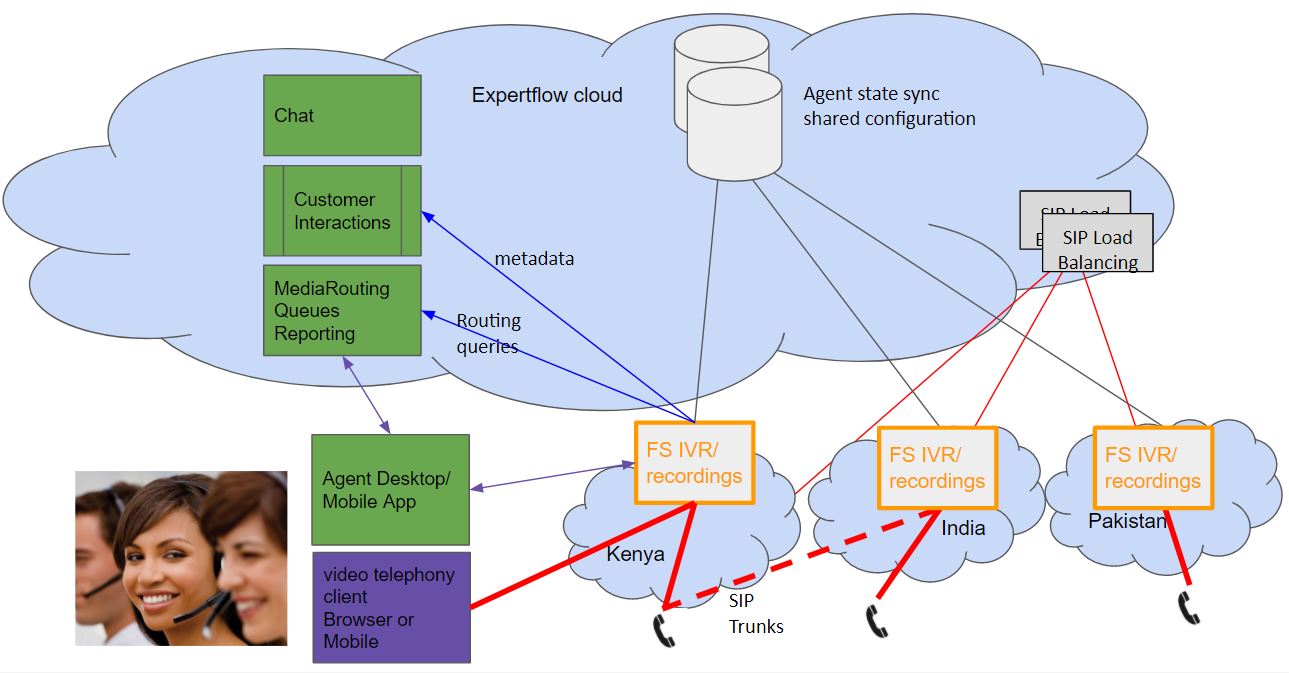 Calls from your customers are received via SIP DID's from your local operator, and signalling request are received at our central SIP servers. The actual calls are then forwarded to the configured (yellow) Freeswitch server (in region, country, or on-prem), where they receive IVR announcements. From the Freeswitch servers, the SIP or WebRTC lines are forwarded to your agents (purple) that can use any WebRTC browser or a SIP soft- or hardphone to receive calls. In case of non-resonsiveness, failure or overload of a Freeswitch server, calls are automatically load-balanced to one of the other close Freeswitch servers for continuity, and agent connectivity is automatically balanced to the surviving server. You can mix on-prem servers for data privacy/ proximity/ low round-trip delays, but still use the Expertflow server farm as a failover environment
Each call is anchored on one Freeswitch server. Servers synchronize configurations (agents, IVR scripts,...), as well as agent states between each other. This means that servers that are configured to do so can back each other up in case of a failure. It would in theory be possible to forward the actual call leg directly from the caller to the agent without tromboing through a server, but one would loose voice recording capabilities in doing so.
This basic cloud PBX functionality is provided by the (grey) FusionPBX/ OpenSIPs services on top of the (yellow) Freeswitch servers. Expertflow provides a (green) cloud-based Callcenter logic that provides skill based routing, reporting, agent CTI interface with CRM connectivity along with Hybridchat (which gives access to Whatsapp, SMS and other chat channels). To those familiar with Freeswitch, the Expertflow software replaces the basic mod_callcenter ACD.
Local partners can provide business IP Telephony services using FusionPBX as an additional cloud business offering to their clients.
The solution is natively multi-tenant capable. Keycloak is the IAM (Identity and Access Management) solution for Expertflow services. At the telephony level, Freeswitch provides isolation through SIP domains. Security/ DOS (Denial of Service) protection and end-to-end encryption is enforced by Nginx API gateways.
At the server farm level, we are using Docker for all our services which allows for automatic scaling and failover. The only exception to this are the Freeswitch servers, for which we require bare-metal servers. The reason is that IP telephony (independently of the stack used) can't scale with Docker because of NAT (Network Address Translation) and IP Addressing.
Expertflow (Andreas Stuber) has submitted a patent back in 1998 for a virtual callcenter, has been developing callcenter software around Nortel (nov Avaya), Aastra, Nortel and since 2007 Cisco.
Why open-source and why Freeswitch?
We found that commercial cloud solutions lack flexibility/ API's, price level and presence in emerging markets that our clients require. Many of our partners are service providers, banks or healthcare providers that have high requirements in terms of data security. If provided in partnership with a service provider, billing becomes an important element, so capabilities such as DIAMETER/ RADIUS, as well as advanced carrier SIP capabilities become a differentiating factor.
We chose the lesser-known Freeswitch over alternatives such as Asterisk as our core telecom switch. Asterisk is better known and the most-used system for small deployments, with a large ecosystem of nice goodies, and primarily used by in-house developers of companies. Freeswitch is known to a smaller community, primarily located in the service provider sector. It's better designed and structured especially for large loads, and natively supports multi-tenancy. The underlying technical reasons relate to the way how memory is handled, read/write locking and process threads. This results in a more predictable and stable solution.
Phone numbers and SIP interconnect
Transfer your existing phone number or purchase new numbers from your local operator and interconnect to our solution via SIP or E1 trunks. We can also provide you local phone numbers as a service.
If you are in a country where the use of VoIP is restricted, you can legally use our solution by using TDM/ E1 interconnections.
Features available in Q2/ 2021
The following features are currently available for Cisco Contact centers and will be available for the cloud contact center in Q2/2021:
The Cloud Contact Center runs on a multi-server Freeswitch deployment. No servers are required, unless you wish to keep voice calls local on-premise. In this case, the below server can handle up to 1000 concurrent calls. Storage space for voice recordings needs to be added.
Hardware Requirements
| | |
| --- | --- |
| Server Cores | 2 Cores |
| RAM | 4 GB |
| Hard Disk | 40 GB |
Software Requirements
| | |
| --- | --- |
| Operating System | Windows Server 2008 and above |
| Database | MS SQL Server, Standard (for redundant setup) or Express, 2008 or higher |