Omnichannel Survey
Cisco Unified Contact Center Express (UCCX), Enterprise (UCCE or PCCE)
Get customer feedback by triggering surveys via voice IVR, SMS or web. Surveys can be happen as part of the call if the agent (or script) forwards the call to the survey tool. Alternatively, it can happen as a separate follow-up survey, after any type of interaction (voice call, SMS, Email).
Preferred Channel Selection
Select the most appropriate channel for feedback or combine them. Play an IVR with a certain set of questions, or send an SMS at the end of the call. You can also present a questionnaire on the web after an online chat ends.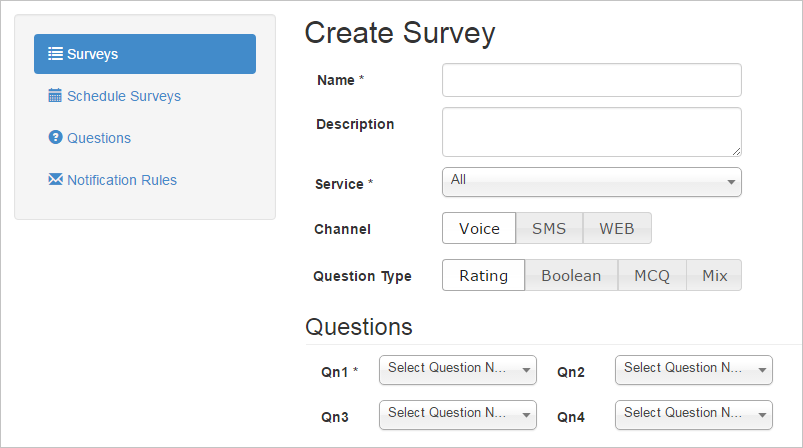 Online Management of Contact Center Surveys
Run several surveys simultaneously per each contact center helpline. Switch a survey on and off at any time. Schedule surveys during specified hour(s) of a day, day(s) of the week, or for certain customer profiles.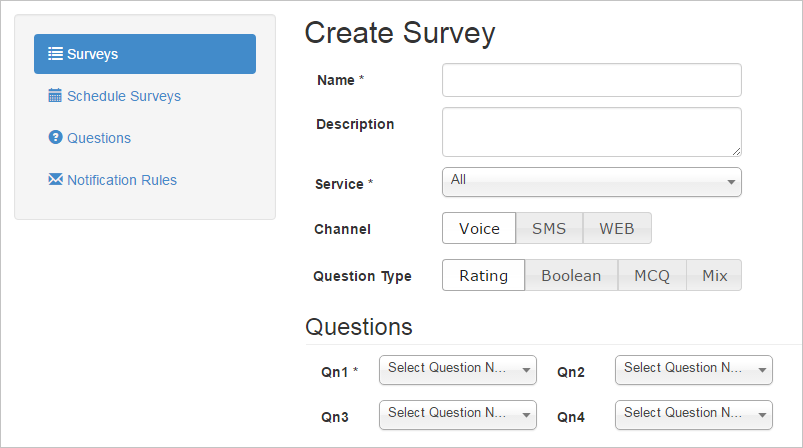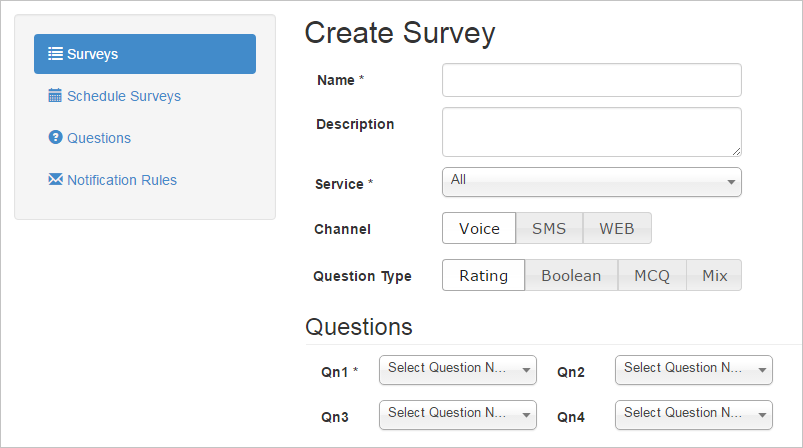 User-defined Questionnaires
Define survey questions on your own. Add as many as 10 questions in a survey. Keep using the same or define different questions for all contact center helplines.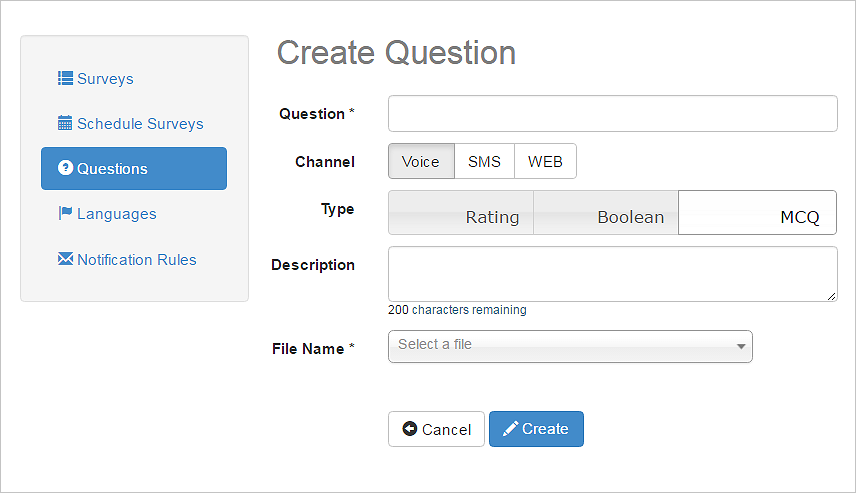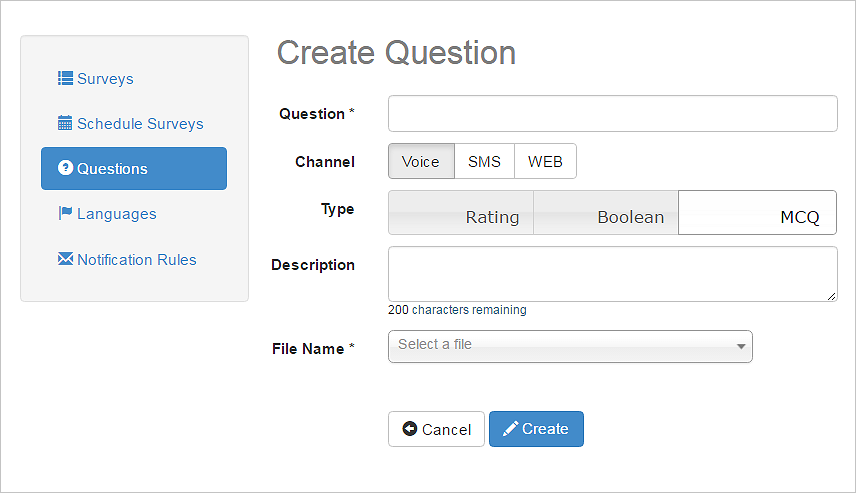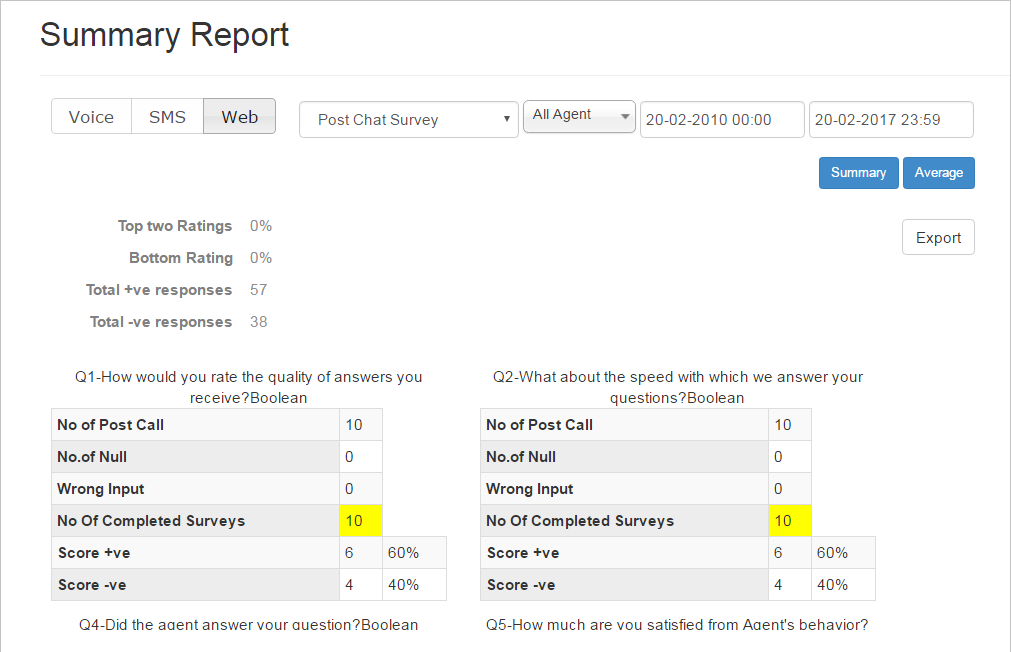 Reports
View survey results in historical or real-time reports. The survey solution is part of Expertflow's customer interaction Module (EF CIM), and all survey results will be attached to the customer interaction history, which is available though a RESTful API. It can be extracted and combined with external data such as your CRM, or with reporting tools such as Cisco CUIC or Expertflow's Wallboard if yould like to monitor customer satisfaction in real-time.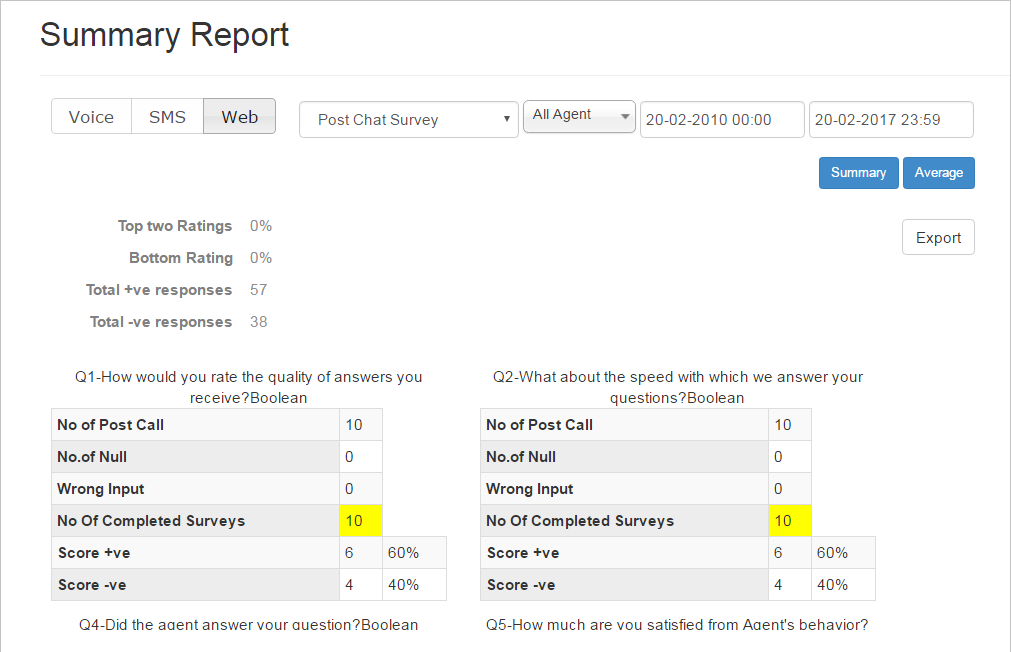 Software Requirements
| | |
| --- | --- |
| Operating System | Windows Server 2012 Standard Edition R2 |
| Browser | Chrome (the latest) |
Compatibility with specific versions of Cisco Contact Center Express and Enterprise
Cisco Unified Contact Center Enterprise (UCCE, PCCE)
| | |
| --- | --- |
| versions | 10.0, 10.5 and higher |
Cisco Unified Contact Center Express (UCCX)
| | |
| --- | --- |
| versions | 10.5 and higher (Enhanced and Premium) |
| Feature | Experflow | Cisco |
| --- | --- | --- |
| Easy-to-manage survey configuration with a web-based UI | | Limited |
| Survey after outbound campaign calls as well as routine inbound calls | | |
| Survey Switch – Start/stop a survey | | Limited – IVR script needs to be modified |
| Reusable questionnaires | | Limited- IVR script needs to be modified |
| Schedule surveys for specific hour(s) of a day, day(s) of the week | | Limited – IVR script needs to be modified |
| Email notifications to notify about poor ratings | | |
| SMS Surveys | | |
| Web Surveys – with an integration to the 3rd party chat client | | |
| Permissions-based access | | |
| Outbound callback surveys | | |
| Survey Reports | | |
| Survey integration APIs – for an integration with chat solutions | | |
Functionality Limitations with respect to CCX/E
| Feature | Description | For CCE | For CCX |
| --- | --- | --- | --- |
| Automated survey after inbound call | Automated survey on the same inbound call | | |
| Outbound Survey calls | Generate a separate outbound call after the inbound call ends | | Roadmap |
| Do-Not-Call List | Adding do not call numbers in the DNC list so the system never makes a survey call to those numbers | | Roadmap |
| Proactive Voice Surveys | Make outbound calls immediately on the uploaded CSV | | Roadmap |
| Proactive SMS Surveys | Run outbound SMS surveys instantly on a collection of numbers | Roadmap | |
| Survey Settings for Repetitive Callers | Choose when a caller should listen to the survey if he repeated calls x times within y period | | Roadmap |
| SMS Surveys | Send SMS survey to the customer once a call ends | Roadmap | |
| Survey for selective agents | Create surveys for selective agents to evaluate agent performance | | Roadmap |
Customer Interaction Management
Schedule, track, score customer interactions and context, linked to your CRM