SAP
Digital Marketing (Chat, Email, WWW)

Mautic is the world's largest open-source marketing automation software. It tracks contacts across websites, organizes contacts and nurtures them through landing pages, forms, web notifications, integrates with CRM systems, automates email campaigns.

The Expertflow plugin extends Mautic by enabling you to send chat messages over any chat channel (SMS, Whatsapp, Viber, FB Messenger,...), and receive responses/ start a conversation with a chatbot or an agent.
It automates voice calls to contacts by triggering the Cisco Outbound Dialer on UCCX or UCCE/ PCCE from a Mautic Campaign.

The Expertflow functionalities described here can be replicated to marketing clouds other than Mautic, such as Acquia, Adobe marketing cloud, Pardot/ Salesforce Marketing Cloud, IBM marketing cloud.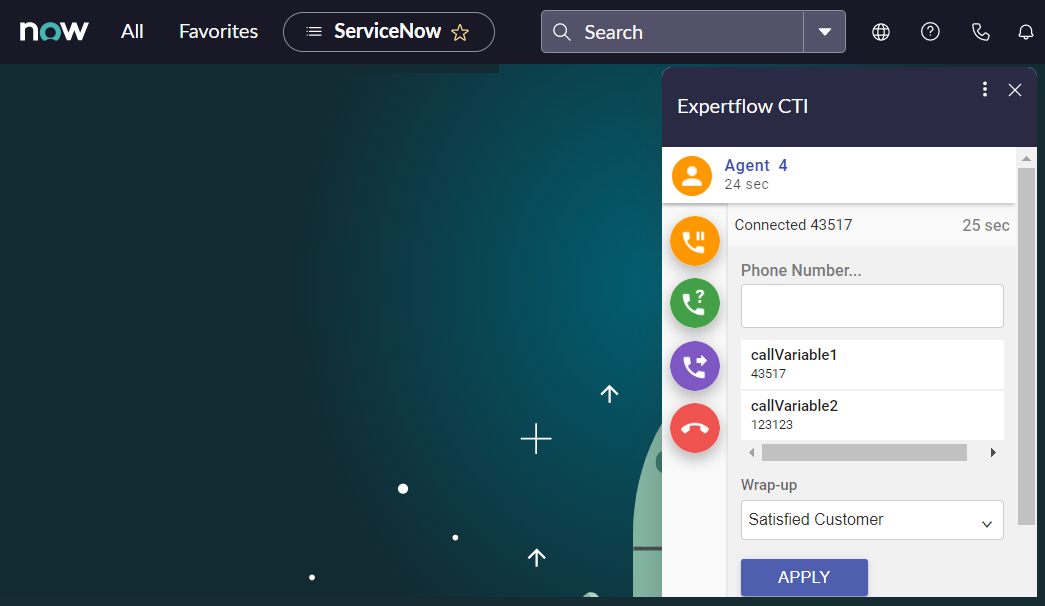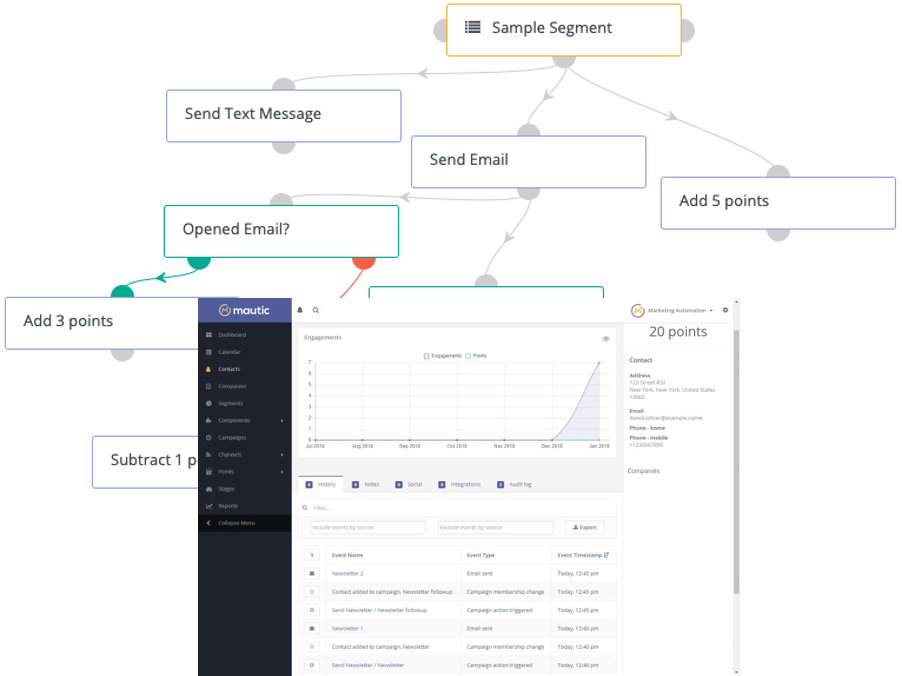 Cisco Unified Contact Center Express (UCCX), Enterprise (UCCE or PCCE)
Data exchange CRM - Mautic - Expertflow - Cisco
Contact data residing in CRM solutions (such as SugarCRM, Salesforce, Microsoft Dynamics, Hubspot, iContact, Salesforce) can be synced to Mautic using one of the existing Mautic plugins.
Expertflow provides a plugin that enables mautic to send text messages across any chat channel, using the award-winning Hybridchat solution, that uses the Expertflow Customer interaction data repository. Responses from customers could be simple (un-)subscriptions, but they could be the beginning of a longer chat conversation, including chatbots and contact center agents. Chatbots can fill out digital forms by asking questions in a chat conversation. Interactions and customer profiles can be synced between the Mautic and the CIM database.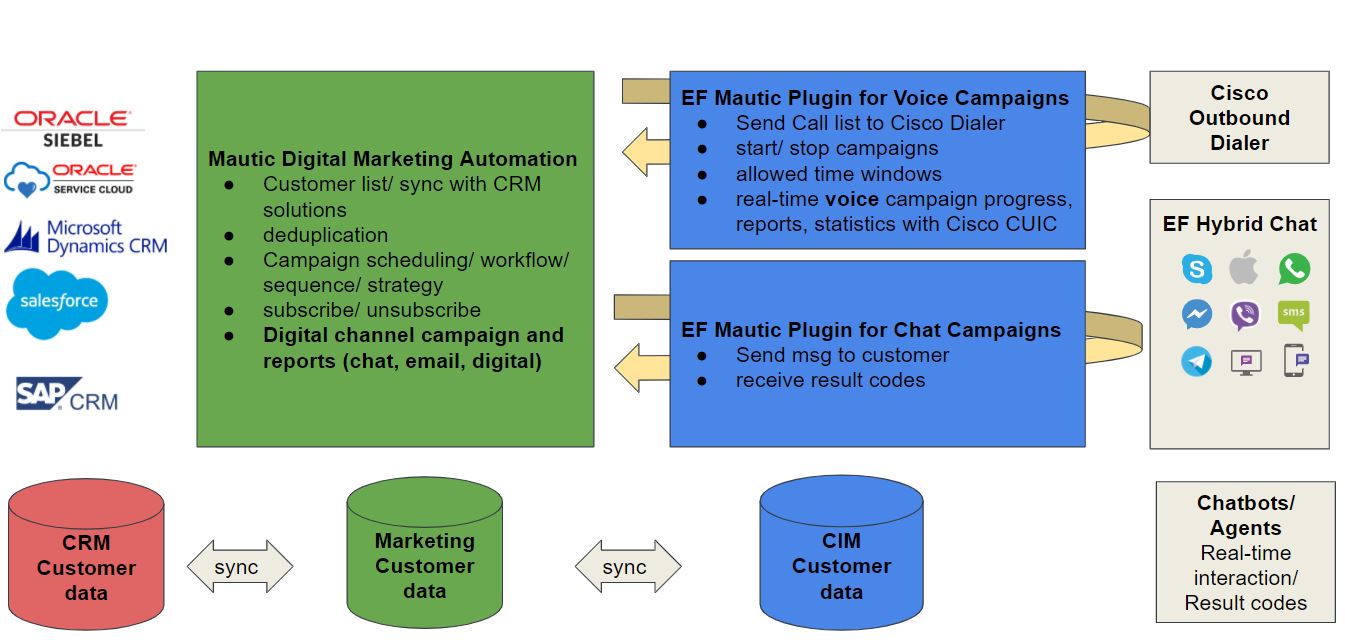 The voice plugin is an evolution of the former voice campaign manager feeds the Cisco Outbound Dialer in permitted time windows, and enables administrators to start/ stop campaigns. It also provides real-time campaign progress. Supervisors can modify campaign prompts.
New events/ triggers to Mautic
The Expertflow plugin adds new triggers to Mautic, such as inbound calls, chat initiation requests from the customer, CSAT scores, supervisor QA scores, and more. These triggers can be configured in Mautic to initiate new actions on a customer's journey.
Data sync between CRM, Mautic, CIM
A CRM, Mautic, and CIM all have a notion of customer and interactions, so it's possible to synchronize some or all data. The difference is that Mautic's job is typically to gradually gain more information about a customer. Contacts in a CRM typically are qualified and there was human interaction. The focus of CIM is to drill down into each individual interaction point such as a spoken sentence or a single chat message.
Campaign Reports
Digital campaigns (Email, Chat, WWW) are executed immediately without delay, without involving agents. Digital campaign reports are available on Mautic.
Voice campaigns on the other hand require time of human agents and the contacts, as well as multiple re-attemps to reach a customer. They are executed over a longer period of time, and require information such as agent performance, agent quality scores and the like. These reports are published on Cisco CUIC.
Agent Guidance Scripts
The Forms module allows to create scripts for agents, which can be linked to an outbound campaign.
Information gathered from agents in these forms can be made available for reporting.