The contact center is winding up a remarkable conundrum. It must be open-ended yet additionally secure, both client-driven and worker-driven, legacy-based yet modernized, and the rundown goes on. The reasons why are genuinely straightforward: Customer requests are constantly advancing as are the channels used to convey those requests. The issue is that innovation progresses at a considerably speedier pace than the contact center can adjust to, in any event, for the present.
The contact center industry is right now in a changing stage, where legacy frameworks will be refashioned by present-day ones, and the once 'low-level' customer representatives positions will be replaced by strong innovations. It's fundamental that your contact center is equipped with what's to come. And keeping in mind that the idea may seem overwhelming, there are various better approaches to determine the issues that will dissolve the achievement of call center operations around the globe.
Here are some patterns that can enable contact center experts to remain in front of the curve in 2018.
Omni Channel Communications
As call center extend their multi-channel offerings, making cross-channel interactions consistent with the customer experience, will be more essential. The capacity to raise from channel-to-channel was previously an extravagance, however, the present clients request nothing less. Shockingly, however, just 36% of contact centers can track a customer journey that traverses numerous channels, and no one but 17% can find issue hotspots that affect customer interaction. This is a noteworthy worry for most contact centers, as customer expectations are just going to increase. By 2020, the interest in Omni-channel support will be increased by the requirement for an almost ideal extent (PricewaterhouseCoopers). The picture below uncovers the expectations of the customers for changes in the demands of various multi-channel options.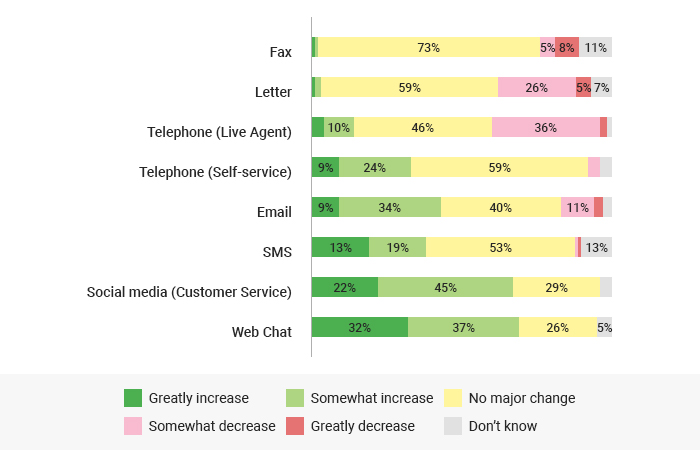 Businesses that adopt Omni-channel strategies achieve 91% greater year-over-year customer retention rates compared to the business that does not, according to a survey conducted by Aspect Software.
Companies with extremely strong Omni channel customer engagement retain on average 89% of their customers, compared to 33% for companies with weak Omni channel customer engagement. (Aberdeen Group)
For a contact, center to be really Omni-channel empowered, all applications must have the capacity to flawlessly recognize, distinguish, route, and switch interactions amongst the agents and the channels seamlessly while keeping every significant data in place. Given this huge endeavor, it is very likely that numerous organizations are at present has been doing this already, and are essentially not represented in the latest studies, especially powered with the enterprise based contact centers.
Despite all the discussion; one thing is for sure: The jump towards Omni-channel will be a major one, and it ought to occur sooner rather than later.
Media routing with Omni-Channel Experience
A recently introduced experience that wraps around the increased demand of Omni-channel customer experience is "task routing" or "Media routing" concept which treats a variety of media including voice, chat, email, SMS, video etc. as a single task and routes them through a unified queue to the relevant customer service representative. Media routing brings the power of Contact Center routing to the third-party multichannel applications. It enables these applications to send task requests to the experts based on business rules, regardless of the media. With an evident increase in the percentage of customer demand for Omni-channel by 2018, the concept of single queue operations to every media type will convincingly enhance the "Power of One" for arbitrary channel types. The customer can now expect ubiquitous, contextual and extremely proactive customer service in addition to contact center customer care platforms.
The graph below illustrates year wise trends in the use of various contact channels and it is highly likely for the year 2018 with an evident increase in email, web chat and social media interaction over the years.

Mobile Applications
The arbitrary increase in a number of the contact center channels is directly mapped with the increase in the number of smartphone mobiles usage. Accessibility to information while on the move makes contact centers responsive and agile. Mobile applications are going to make a notable difference in the enhanced performance of contact center representatives since the use of mobile applications is limited to supervisors only.
As contact center pioneers get on to the significance of easy to use online customer interactions, digital channel interaction is set to increase by the accompanying percent throughout the year where supervisors and administrators of the contact center would like to have usable mobile applications for monitoring and analytics and administration respectively.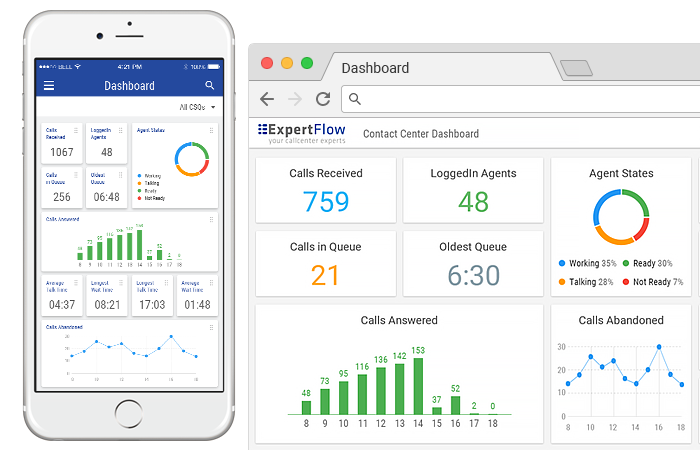 A digital marketing strategy will be key as the cost of mobile data goes down, and Omni-channel/machine-to-machine interactions progress.
Performance Measurement
With the upcoming increase in mobile applications, the need for performance measuring becomes a challenge to manage. Although performance measuring and evaluation tools are readily available in the contact center market, the need for mobile-based performance measuring tools with multi-channel and Omni-channel verticals is also increased. Currently, more than 89% of the contact centers measure performance over voice channel alone. On a related perspective, the importance of measurement of analytics becomes self-existing with the evident increase in the channels and platforms. Out of 10, 7 managers and supervisors agree that the measurement of performance leads to increased productivity.
Multi-channel Bots
Live bots can answer basic questions in an effective way, significantly more rapidly than a man ever could. Regardless of the advancements made with Natural Language Processing, it stays a necessity to have a call center staffed both by bots and individuals in conjunction; where individuals can assume control over the interaction when the inquiries get tricky while bots field the convenient solutions.
Likewise, bots can be utilized to deal with the underlying interaction with clients. Bots can take the client points of interest and data on the issue, analyze it internally before giving over to a specialist. This diminishes introductory holding up time, which means clients will as of now feel serviced and acknowledged. On the off chance that the inquiry can quickly be taken care of by a bot which implies that there is no requirement for it to be transferred to a call center representative. In the event that a specialist is required, the bot can appoint the call to the most qualified individual in view of data captured in the initial handshake session with the customer.
At some point or another, each organization should utilize bot powered contact center. In this way, organizations can guarantee 24/7 operations, minimal human errors and costs will be diminished. By utilizing bots in the customer relationship management (CRM) schemes, customer service is assured at the basic level in conjunction with the contact center customer care applications.
Cloud-Based Contact Centers
With an increased use of cloud managed contact centers and quick adoption of cloud-based services from the customers, organizations are not thinking of whether to go with the cloud-based contact centers or not, but when to switch to cloud in order to be at par with the industrial dynamism of technology.
Quite recently, the risks of security within cloud-based contact centers have greatly been reduced i.e. up to 72% from the previous year statistics which potentially enables a probable shift of contact centers from on-premise to the cloud-based contact center. This trend might speed up once organizations regulate voice to multi-channel utilization ratio and dependency on voice-based operations will diminish.