Campaigns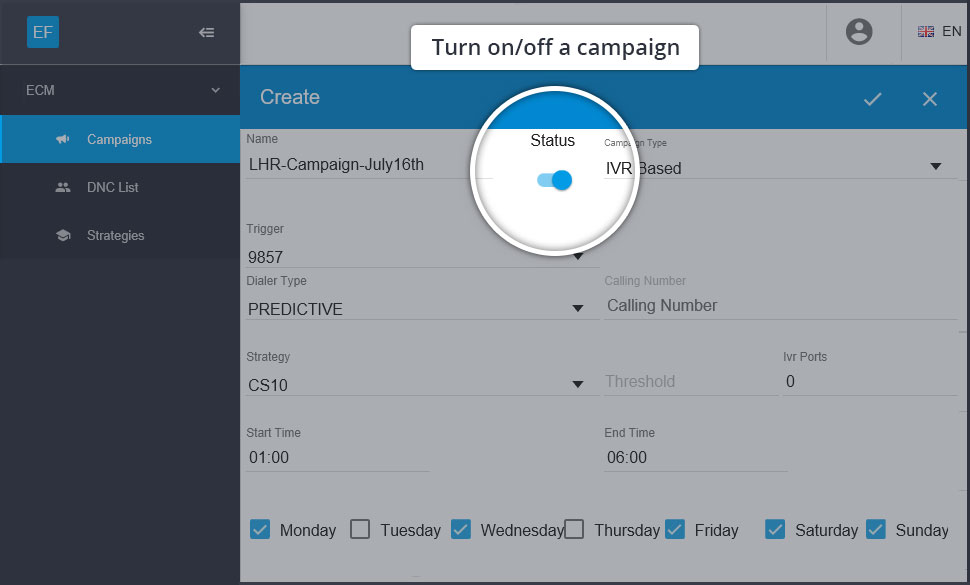 Outbound Campaign Manager

Track and manage customer journeys across channels
A multichannel campaign manager that can work with lists, individual callback requests, as well as external data sources. Run interactive, agent or non-agent based campaigns (IVR/ SMS/ Chat), store interaction data, and trigger agent-based or anonymous surveys/ questionnaires.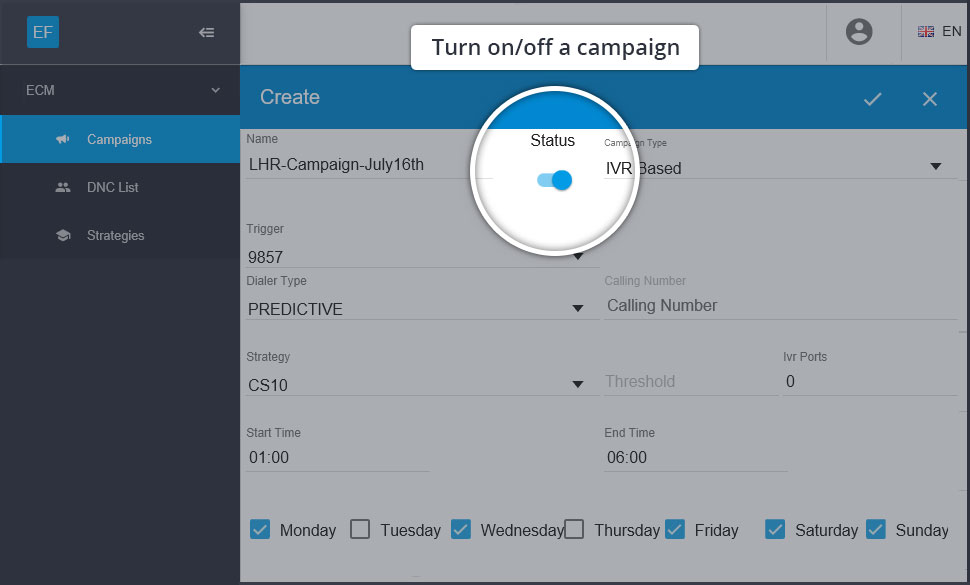 Cisco Unified Contact Center Express (UCCX), Enterprise (UCCE or PCCE)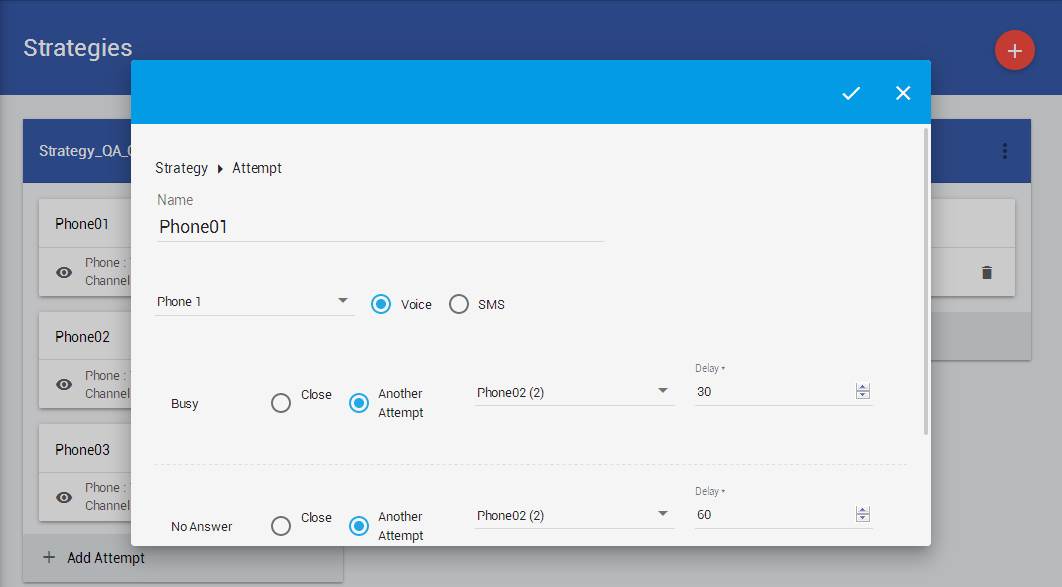 Call Strategies
Define rescheduling strategies such as number of retry attempts and the channel of the attempt, voice or SMS, for selective call results.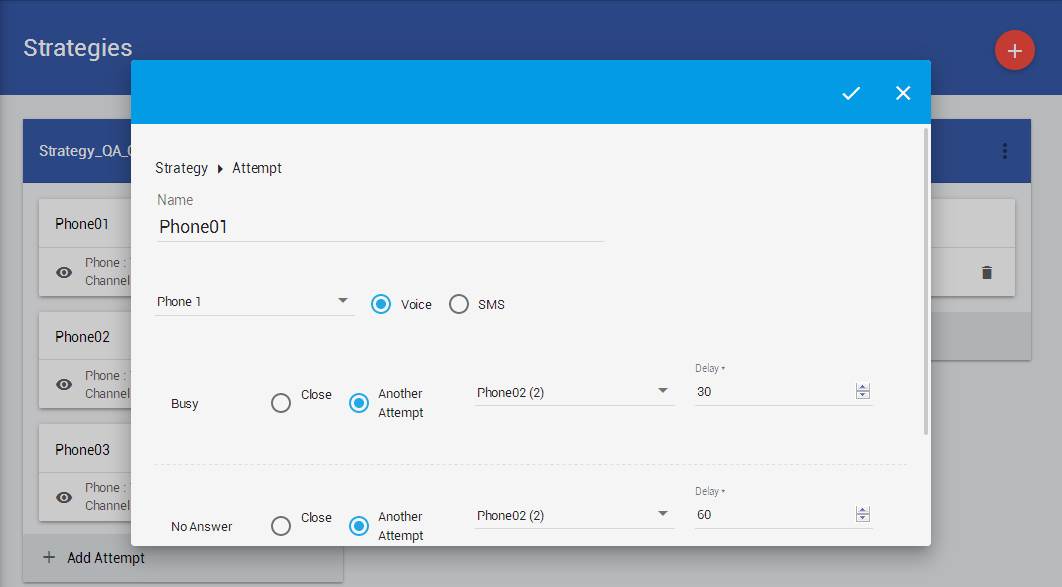 Campaign Schedule
Control campaign execution by defining the hours of the day and days of the week when a campaign should run.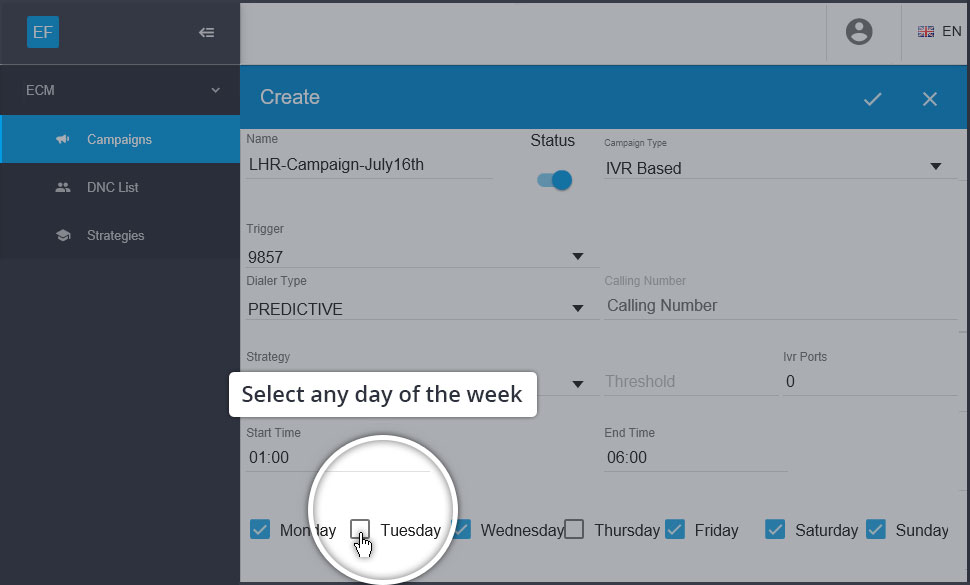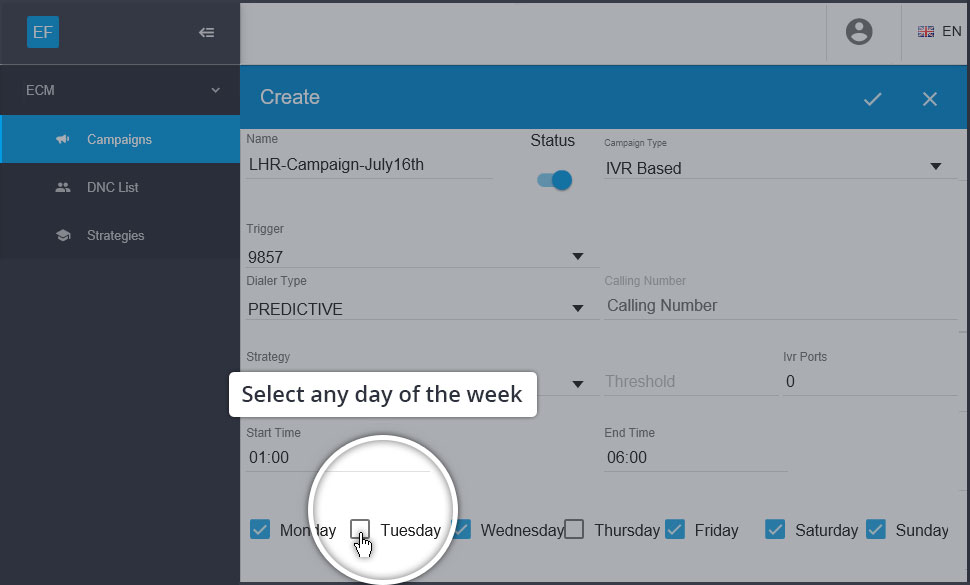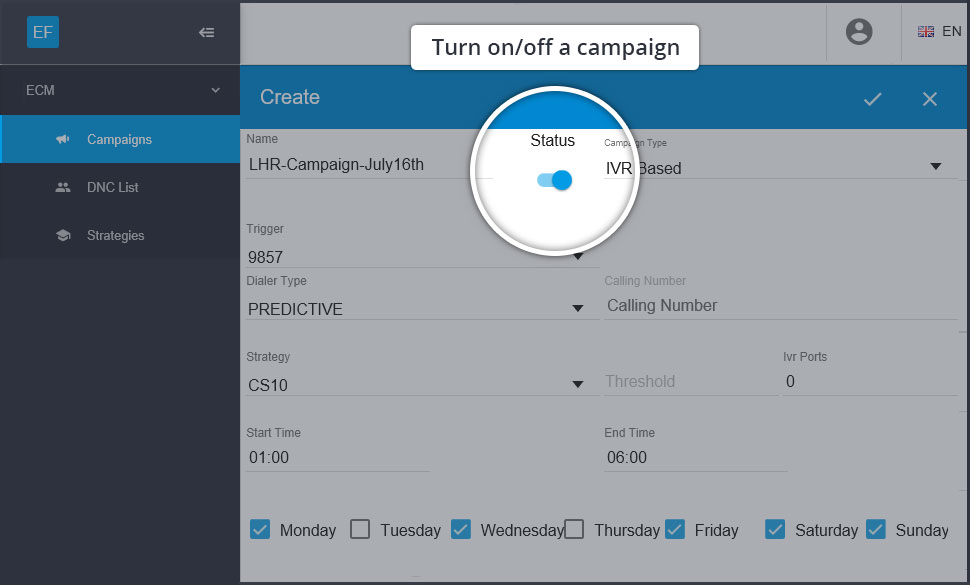 Start, Stop or Resume campaigns on the go
Toggle to start, stop, and resume ongoing dialer campaigns. The application keeps track of the point at which the dialing stopped and resumes from this same point.
Contacts that got transferred to the dialer already before the campaign aborts, are still dialed.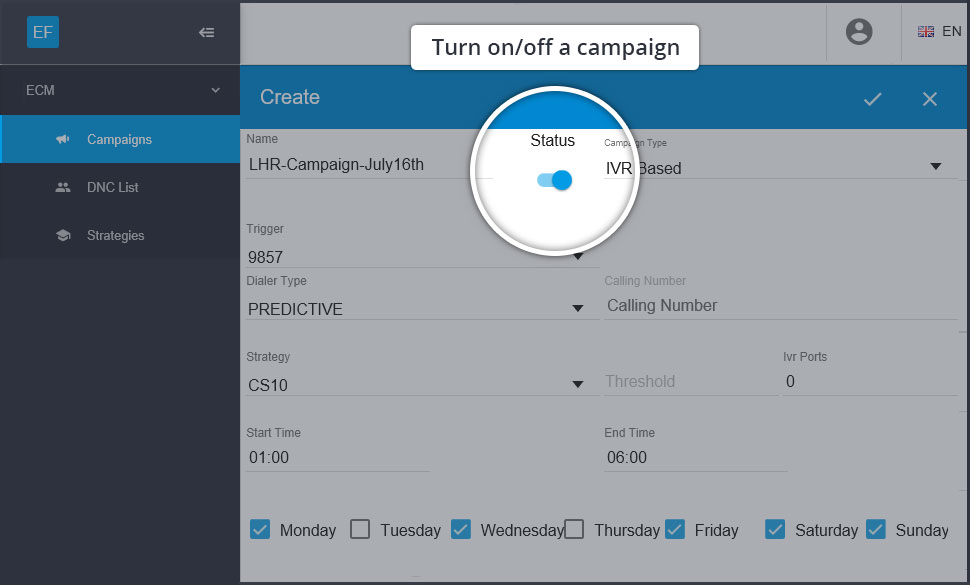 SMS/ Chat Campaigns
Choose the campaign channel as voice or SMS.
Add SMS attempts in a Voice campaign to reach customers via SMS if not reachable via voice. You can also run standalone SMS campaigns to send promotions, business reminders or follow ups to customers.
Campaigns over digital channels such as chat (SMS, Email, WhatsApp, or any chat) are now available with the Expertflow Plugin to Mautic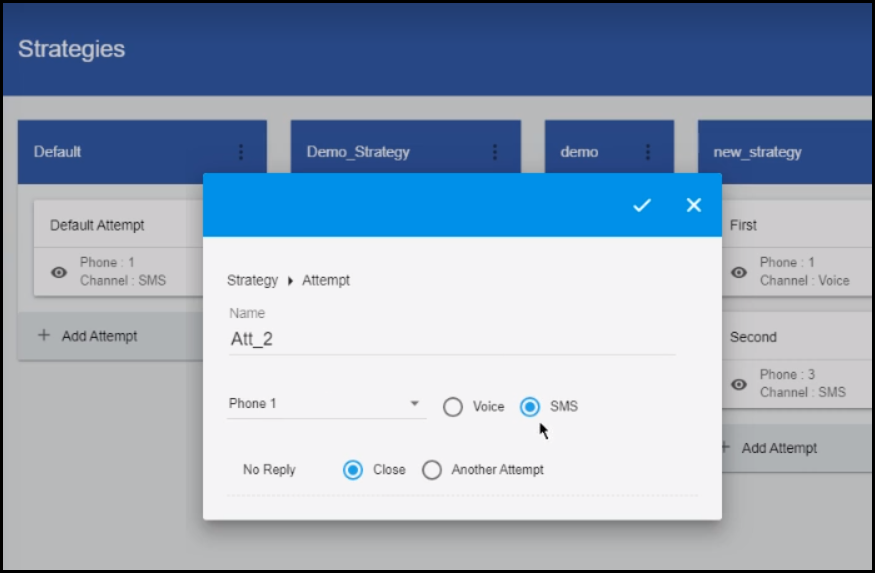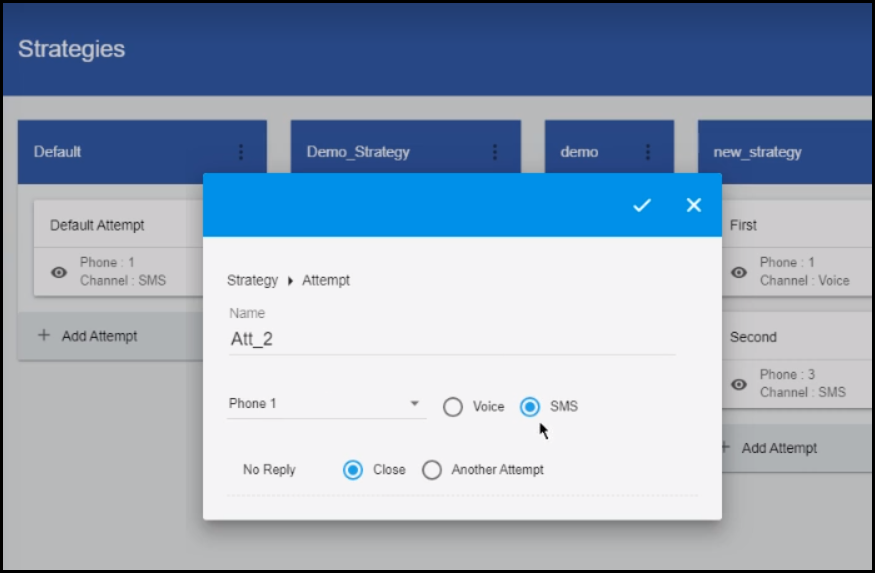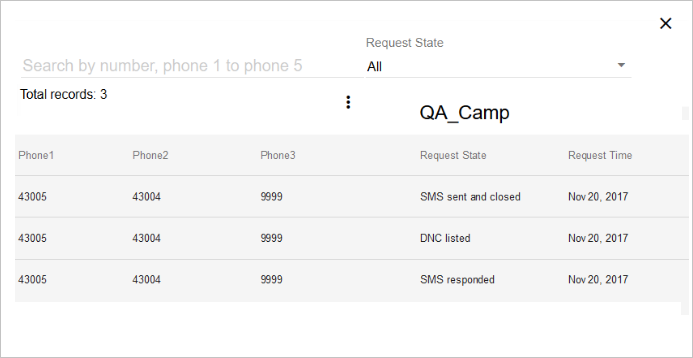 Real-time Campaign Reports
View real-time reports in ECM to see the status of a contact in a campaign, in near real-time, such as "Pending", "Sent to Dialer", "Connected".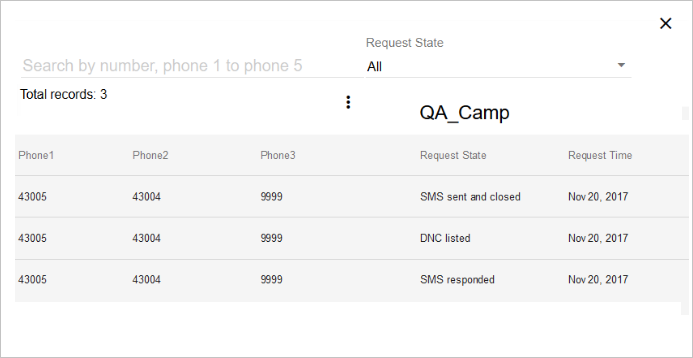 Design forms to act as call scripts to guide agents during customer conversations OR allow agents to ask certain questions and record customer feedback, to better analyze and address customers' problems and interests.
For instance, register a new customer order while dialing in a marketing campaign, FAQs to answer frequently-asked customer queries.
Embedded in Cisco Finesse Desktop, it allows you to trigger the right form based on the type of customer query or type of conversation (inbound/outbound).
Digital campaigns (email, www, any chat channel) and CRM integration
With a future release, ECM will be part of the CIM (Customer Interaction Manager) framework and integrate with Mautic as a plugin. Mautic tracks contacts across websites, organizes contacts, and nurtures them through landing pages, forms and web notifications, integrates with CRM systems and automates email campaigns.
The Expertflow plugin extends Mautic by sending chat messages over any chat channel (SMS, Whatsapp, Viber, FB Messenger,...), and receiving responses by a chatbot or an agent.
Expertflow CIM, Hybridchat and ECM have open API's that can be adapted to Marketing clouds other than Mautic.
Historical Reports in CUIC
View consolidated and detailed historical reports to see what happened to your campaigns. Drill down on the call results to see what happened to an individual call.
Different CUIC reports are available depending upon the underlined platform (CCX or CCE).
See Reports
Hardware Requirements
See Hardware Sizing sheet for accurate machine specifications.
Software Requirements
| | |
| --- | --- |
| Operating System | CentOS 7 |
| Browser | Mozilla Firefox (61 or higher) |
| Docker CE | Docker CE 18+ and docker-compose |
| Database | MS SQL Server 2014/2016 Standard or Enterprise edition. To support HA, an SQL Server fail over cluster is required to be set up. For a non-HA deployment, the application can also work with MySQL. |