Integration Partners
Expertflow always works with local systems integrators and is a "partner's partner". We select partners that are able able to provide you with solid IPT knowhow, assume a role as general contractor, and have a strong local presence and client base in their market. The Cisco partner typically provides the following services to clients:
Shipment of IP Telephony, LAN/ WAN
Shipment and installation of all required hardware/ servers
Pre-configuration of servers (Operating systems, Domain Controllers, MS SQL Server, Antivirus,...), pre-loading of application SW
Provisioning of remote access to all servers
On-site spares and replacements
General contractor, project management
Connectivity including firewalls, load balancing between the servers
Systems monitoring
Server environmental conditions (dust, heat, humidity,..)
We complement them with the best professional services and project organization in the callcenter environment, enabling them to provide you with complex turn-key solutions, delivered locally.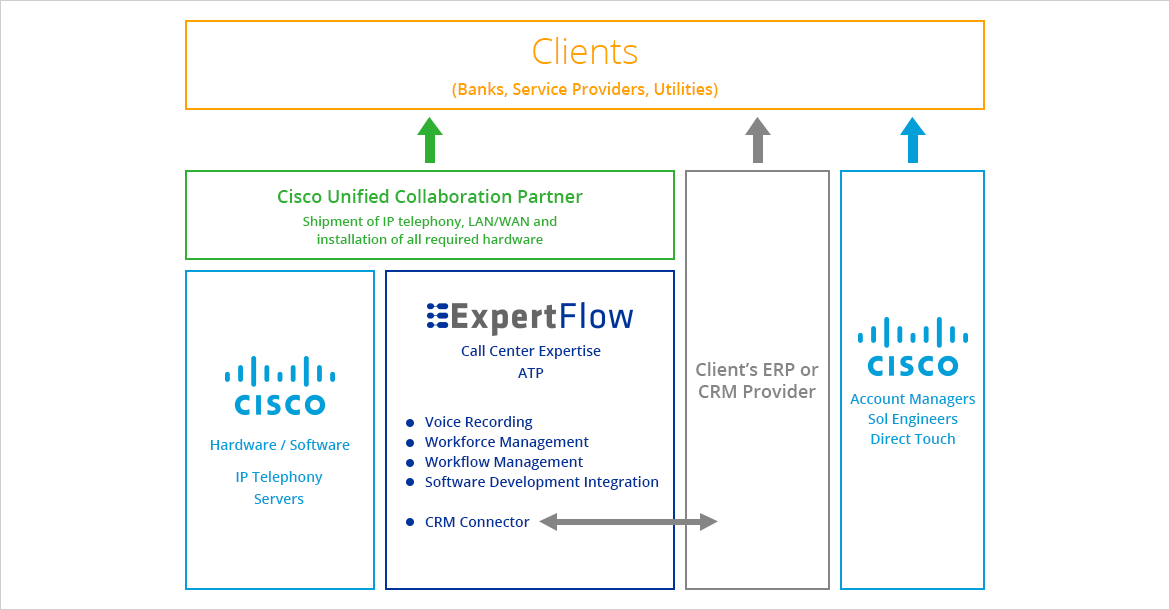 Our engagement with the partner extends from a presales phase, on-site presence, project management, client workshops, handover support and maintenance.
We stand besides our partners, jointly assume project risks and ensure that we deliver to the client's satisfaction.
Our partners need to have at least an Express UC certification and are listed on the Cisco partner portal (select your country, and then under "Specialization", select "Express Foundation, Express Unified Communications, "Advanced Unified Communications" and "Master Unified Communications"). Expertflow is an Authorized Technology Provider for Unified Contact Center Enterprise and Customer Voice Portal.