Video for Web
Cisco Unified Contact Center Express (UCCX), Enterprise (UCCE or PCCE)
A solution which empowers Contact Center agents to handle video call requests from the web through the unified agent desktop like CRM interface or Cisco Finesse with blended agent capabilities. Also offers screen sharing capability both for agent and site visitor during the video call.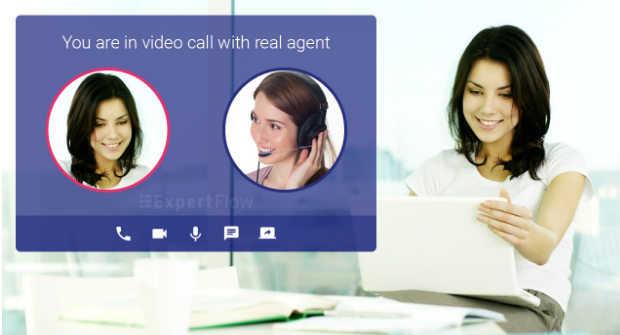 Our Video for Web is a Web-RTC based, Plugin-free, HD quality video channel to enable contact center agents to take video calls of the customers from your website. It can be integrated with a variety of market-leading CRMs such as Siebel, SAP, and Microsoft in collaboration with Expertflow/third-party CRM Connectors.
Solution is empowered with blended agent support allowing a single agent to seamlessly handle contacts from more than one service of any of the channels like; (audio/video calls, emails, chat, text, social media, etc.) managed by the contact center.
Supported browsers are Chrome, Firefox, Opera and Android and iOS are supported platforms. Below are the main solution components:
Video Chat Web Widget
This is a javascript client-side code that can be embedded in any website. This can be branded to match the look & feel of the website. You can specify 0-5 custom fields for the user web-form. A user will be asked to enter values for these configured fields to initiate a video call.
Agent Video Chat Gadget
It runs inside Cisco Finesse. An agent can see the new video call requests along with the filled-form values. A customer/contact screenpop event based on the provided values can also be triggered using Cisco Finesse.
For an active video call, the gadget will show the screen containing caller video stream and the agent's published camera output.
Video Communication Server
Our Video communication server communicates with the website widget for signalling, setup and tear down of the video call between the website visitor and the agent.
UCCX
Media Routing for CCX is a routing engine similar in functions to the UQ API for CCE and doesn't require Cisco SocialMiner. The Engine integrates directly with UCCX APIs, Finesse REST APIs and XMPP.
MR Agent States For Video Chat/Call
Ready for video chat/call (Agent is available for video chat/call)

Not Ready for video chat/call (Agent is not available for video chat/call)

Chatting/On Call (Agent is video chatting/calling with a customer)
Agent Selection For Video Chat/Call
To route a new video chat/call request, MR will
Check the available agents (agents sitting in READY state for voice calls as well as for non-voice media).

Based on agent the selection algorithm (longest available), select the next available agent

Change the agent state to NOT_READY for voice calls (with a particular media reason)

Route the media request

Upon finishing the request handling, change the agent state back to READY (to make him available to receive voice calls again)
Web Based Configurations
Using the web based configuration interface, a user can manage teams, reskill agents, and manage CSQs for voice, video, and other non-voice tasks.
UCCE
Task Routing describes the system's ability to route requests from different media channels to any agents in a contact center. Agents can be configured as a member of a skill group or a precision queue in three different Media Routing Domain to handle voice, email and chat requests. You can design routing scripts to send requests to these agents based on business rules, regardless of the media. Agents signed into multiple MRDs may switch media on a task-by-task basis
CCE and Task Routing
CCE provides the following functionality as part of Task Routing:
Processes the task request.

Provides estimated wait time for the task request.

Notifies SocialMiner when an agent has been selected.

Routes the task request to an agent, using either skill group or precision queue based routing.

Reports on contact center activity across media.