Chatbot / Artificial Intelligence
Cisco Unified Contact Center Express (UCCX), Enterprise (UCCE or PCCE)
A (Chat) bot can partially automate chats and any form of written communication, such as emails and scanned-in documents. This reduces the time of responding manually. When the bot detects that it can't recognize the user's intent, it can handoff the chat to a human agent, and continue to support the human agent.
Exportflow provides the following services:
Unify

 

multiple chat channels into one, both on the customer side (FB Messenger, App,..) and on the agent side (Slack, Cisco Spark, Microsoft Teams, CRM-specific that tool)

Configure

 

Bots with Artificial intelligence objects (Intention / Action/ Entity), and adapt them to local languages if required.

Integrate

 

with your back-office solutions, from where the bot can retrieve information to serve your customers (CRM solution, knowledge base, Q&A, document base, ERP..), and where he can implement desired actions.
Handoff from bot to human
With the Expertflow Chat Framework, we can provide a handoff from the bot to a contact center agent with media routing/ media blending. Most bots reach a point where they can't answer the customer's request and a handoff strategy is essential when deploying a bot. Media blending means that agents can serve alternatively voice calls or chat/ emails, depending on the volume of incoming requests.
So if there are many Voice Calls, you could, for example, postpone answering temporarily to Emails or Chats, or the Chatbot could inform the user that he can't answer this particular question, but that your company would be happy to call him back once an agent becomes available.
It is also possible for a bot to run in parallel to a human agent, suggesting quick answers for the agent to select from. An agent can also serve multiple chats in parallel. Expertflow is an expert at managing these communication flows through the contact center. These features are available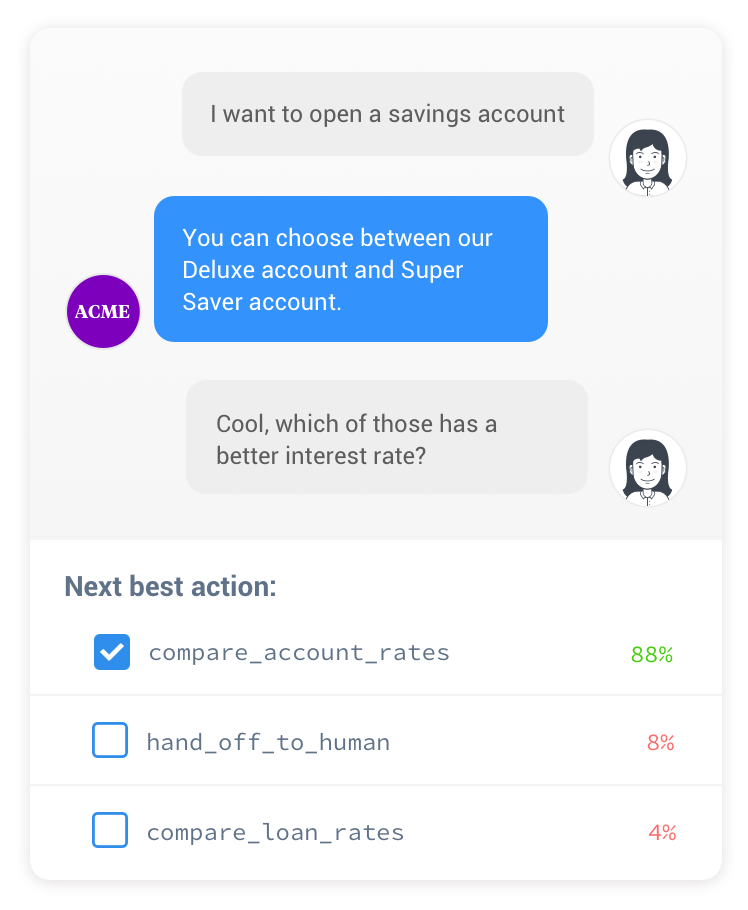 Which bot / AI/ NLP framework?
Expertflow provides integration services for any of the major bot/ NLP/ AI frameworks, including Microsoft LUIS on Botframework, IBM Watson, Amazon Lex, Google Dialogflow.
We also deploy premise-based open-source chat solutions based on elements of rasa.ai (to define intentions/ actions/ entities), botkit.ai (for interconnection) and spacy.io (for NLP - Natural Language Processing). These can allow a greater degree of flexibility and leverage with regards to languages, vocabularies and privacy.
Programming a bot (with Google Dialogflow/ api.ai)
Subscription to the bot framework of your choice

In case of Cisco UCCX, a license for Media-Routing from Expertflow

If you want a customer profile pops up on the agent side when he takes over a chat, a CRM connector from Expertflow

Expertflow Professional Services for integrations to chat channels and to configure the Bot/ AI solutions